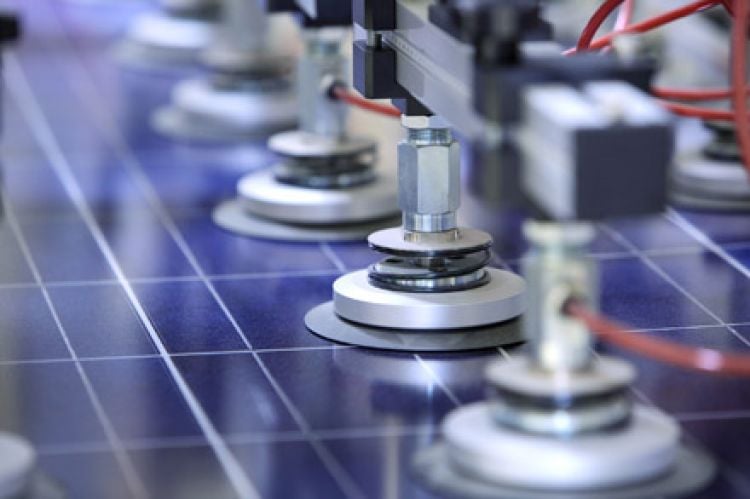 Before and after China's National Day holiday last week, two things that have affected the PV module supply chain have continued to bubble up: one is the rising price of raw and auxiliary materials caused by upstream power rationing, and the other is the fact that some downstream installers and local channel merchants have now simply given up resisting price increases and began to stockpile.
Under the background of "power rationing", industrial silicon supply has been greatly reduced, and some manufacturers have begun to seal orders. In the field of polysilicon, many companies in the industry have also announced that production lines have been temporarily suspended in response to the local requirements of "double control of energy consumption".
Upstream raw material price pressure is felt by module companies eventually, and industry survey data showed that in late September, module factory operating rates were reduced. Some module makers have begun to suspend production of 156mm and 166mm related production lines, choosing to prioritise 182mm and 210mm modules instead. Equipment commissioning of some new factories has also been suspended, and production capacity cannot be released as scheduled. Others, meanwhile, are scaling back existing plans.
It can be said that this time is different from the past, the most direct impact of power rationing is the release of production capacity, not only price rises, more serious may be out of stock!
Module price exceeds RMB2 (US$0.30)/W as volatility spikes further
After previous price rises, some end users simply chose to wait and see for when the price would normalise. However this more recent surge has put paid to that tactic, and many EPC companies and distributors were forced to bite the bullet and restart procurement prior to the National Day holiday.
One head of a China-based EPC, speaking to PV Tech, said it ordered some components bound for projects that are due to start work shortly because of fears of price increases after the National Day festival.
According to informed sources, some module manufacturers have suspended module sales and stopped receiving orders before the holiday, and any signed module orders have fallen into serious losses, something leading module makers warned of in an open letter drafted just before the festival. Many module manufacturers have begun to postpone delivery, and many installers' projects have stalled because they cannot get modules.
In the first week after the holiday, latest price surveys show that the ex-factory price of 182mm monofacial modules has officially exceeded RMB2 (US$0.31)/W, including tax, reaching a price not seen in the past two years. The price of 182mm and 210mm bifacial modules is also hurtling towards that same price mark. Before the festival, the average price of modules was fluctuating around the RMB1.8/W (US$0.28/W) mark.
For module manufacturers, in addition to the price rise in the upstream of the industrial chain, prices of EVA, POE film, backsheets, glass, aluminium and other auxiliary materials are also at historical highs, and some materials are still very scarce, which makes component factories bear huge cost pressures and ever-tighter margins.
Some industry estimates suggest that if the polysilicon price rises to RMB260/kg, module prices will need to rise to at least RMB1.9/W (US$0.29/W) just to break even. Profitability continues to deteriorate as each link in the chain experiences a hike in prices, as has occurred over the past few months.
Those in the industry once jokingly referred to the RMB2/W (US$0.31/W) price for monofacial modules as a "friendship price", given the margins that were on offer at those prices, but this is now the consensus for most module makers given the current constraints.
Prices to remain high into 2022
Manufacturing facilities are almost helpless when it comes to price increases, one component head at a solar module manufacturer said. Highest bid prices for silicon material have now reached RMB260/kg, while glass and film prices rose by 20% and 35% in a month respectively. Most in the industry expect these trends to continue, especially as power controls continue into what is historically a strong quarter of the year for demand. "The likelihood of a reduction to the [module] price this year is low," the component head said.
It's a difficult problem to solve, as perhaps evidenced by the recent letter (mentioned above) from LONGi, Jinko, Trina, JA Solar and Risen which amounted to the industry's first joint appeal on procurement. At present, most leading module companies have reduced capitalisation rates and current capacities are not expected to exceed 70%. Some second- and third-tier manufacturers are said to be even lower. The same is being experienced on the cell side, with some utilisation rates of cell facilities declining to about 47% immediately after the National Day holiday. Quantities of 182mm cells have been significantly reduced, and the a shortage of manufacturing capacity is likely to mean short-term installation targets will go unmet.
"Some people say, 'a RMB0.2 increase in costs kills the pace of the industry', and I don't think that's an alarmist statement. It's very likely. Under current controls many material manufacturing companies have limited production capacity, and the imbalance between supply and demand caused by difficulty in keeping prices low is expected to force many companies to adjust output and shipment plans," one industry executive said.
Raw and auxiliary materials have now been rising generally for more than a year, starting with glass prices towards the end of 2020. But this year's situation is more severe, and the lessons some are heeding from Q3 going into Q4 is now not to hesitate in procuring while you still can.