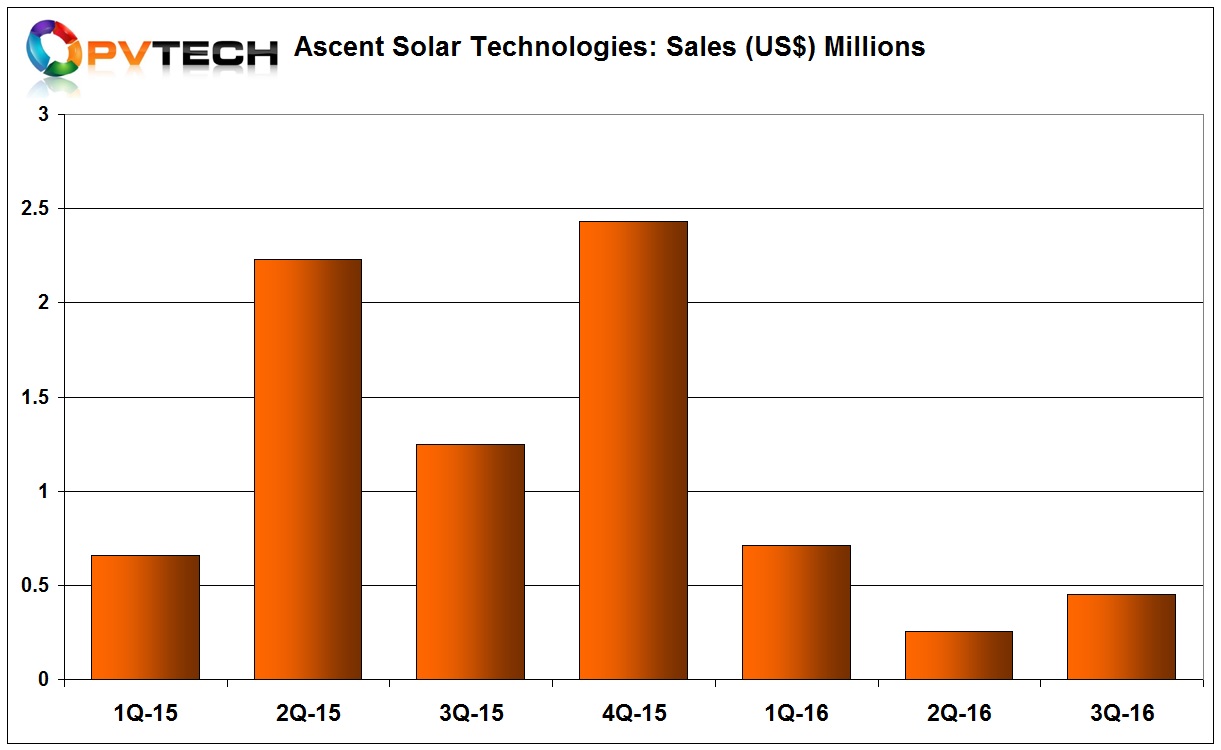 Struggling flexible CIGS thin-film consumer product producer Ascent Solar Technologies third quarter 2016 sales almost doubled but losses continue to mount.
Ascent Solar reported third quarter sales of US$452,674, up from US$255,323 in the previous quarter due to a catalogue of woes.
Specific customer issues from the last quarter remained unresolved as the company noted that gross shipments for the period would have equated to around US$1.1 million, but due to a deferment in revenue recognition as a result of a customer contract modification as well as allowances for RMA (Return Merchandize Authorization), sales were reported much lower.
Ascent Solar reported total revenue for the first nine months of 2016 of only US$1.42 million, compared to US$4.14 million in the prior year period.
Although the company cut costs in the quarter, operating losses for the first nine months of 2016 reached US$20.18 million.
Victor Lee, President and CEO of Ascent Solar Technologies said, "On the back of the poor second quarter showing, we are confident that the worst is behind us as we continue to streamline our business model and further execute our growth plan. Given the continuous expansion of our retail footprint, particularly with the increased penetration of our distribution effort to now more than 1,500 Verizon Wireless authorized retail stores, we remain optimistic on the opportunities ahead for growth."
The company is expected to raise further capital before year-end to continue in operation as cash and cash equivalents were only US$131,902 at the end of September, 2016.