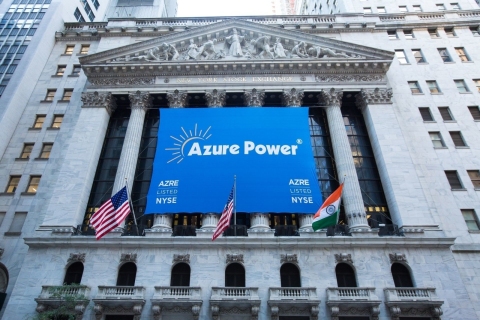 Azure Power Energy, a wholly owned subsidiary of Indian independent solar power producer Azure Power Global, will issue an inaugural US$500 million green bond offering, maturing in 2022.
The bond has already been certified by the Climate Bonds Initiative. Azure Power plans to use the proceeds from the bond to refinance existing debt and for other general corporate expenses.
Inderpreet Wadhwa, founder, chairman and chief executive office of Azure Power, said: "The transaction is aimed at financing Azure Power's existing and future eligible solar power projects which promote sustainability, whilst optimizing financial costs and diversifying sources of funding. Through this bond offering we are furthering our contribution towards realization of our Prime Minister's commitment towards clean and green energy, through solar power generation."
The bond is offered to eligible yield investors who have a specific mandate or portfolio for buying green bonds.
Earlier, Azure Power had alos been assigned an SP 1A rating – the top credit rating – by the ICRA, one of India's leading rating agencies.
The World Bank's IFC recently invested INR6.67 billion (US$103 million) in L&T Infrastructure Finance Company via green bonds to help finance solar PV in India.