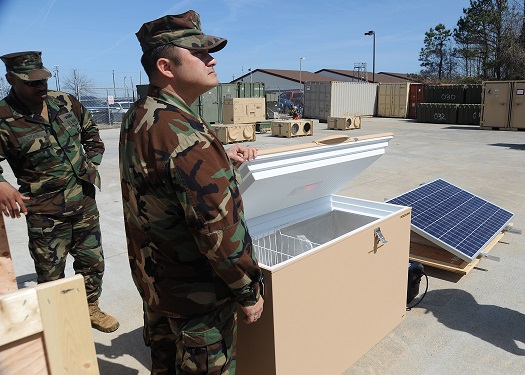 Battery storage is "vital" to enabling microgrids to meet stringent requirements for being installed at US Military facilities, a developer has said.
In a guest blog published earlier this week on our sister site Energy-Storage.News, Lisa Laughner, CEO and president, and Tony Soverns, CTO, at Go Electric, wrote from their experiences in delivering solar and battery-powered microgrids installations to military bases in US territories.
Prior to 2017, the US Department of Defense (DoD) stipulated that military microgrids enabled "72 hours of grid-independent readiness" at mission-critical facilities. Last year, the criteria changed to a full 14 days.
In the blog, Laughner and Soverns explain how batteries – and solar – confer the environmental, logistical and economic benefits of reducing diesel use to off-grid, or off-grid ready, military facilities and are "key to delivering a fourteen day grid-independence capability".
Smoothing variable renewable generation, adding battery backup and balancing the full system's resources with generator control optimisation algorithms can enable the microgrid to its most efficient use of fuel, to give one example from the blog.
"Optimising generators, buffering loads and intermittent generation, and extending the sun are all stacked benefits of battery energy storage in military microgrids," The Go Electric team wrote.
"Already an important component, battery energy storage is now even more vital to helping military bases achieve the extended resiliency standard with the same amount of energy resources."
While a relatively new company, Go Electric was identified by IHS Markit in a recent study as one of the US' leading providers of energy storage in the commercial and industrial (C&I) sector. While the sector's three clear leaders, Stem, Green Charge (now ENGIE Storage Service NA) and Advanced Microgrid Solutions (AMS) all made their name in the industry around offering energy storage 'as-a-service', Go Electric sat in a different category, analyst Julian Jansen said.
"Not a lot of people have come across them but we think the business model or the idea behind this is potentially very interesting. What they've really done is focused their proposition around the resiliency or the UPS aspect," Jansen said.
"So [Go Electric is] basically going in and competing more with traditional UPS suppliers rather than with the C&I specialists that we've profiled, trying to monetise the UPS assets, providing for example demand response in certain areas, maximising the revenue or actually creating a revenue from a unit which sits idle most of the time."
Earlier this month, rival provider Johnson Controls was awarded the contract to build a a solar-plus-storage microgrid at a missile test site in the Pacific, in a project which will receive a US$40 million government grant, due to energy and cost savings the developer was able to promise under the US Energy Savings Performance Contracting (ESPC) policy.
Read the guest blog from Go Electric: 'Mission-critical: Challenges in building resilient microgrids for the US Military' on Energy-Storage.News.