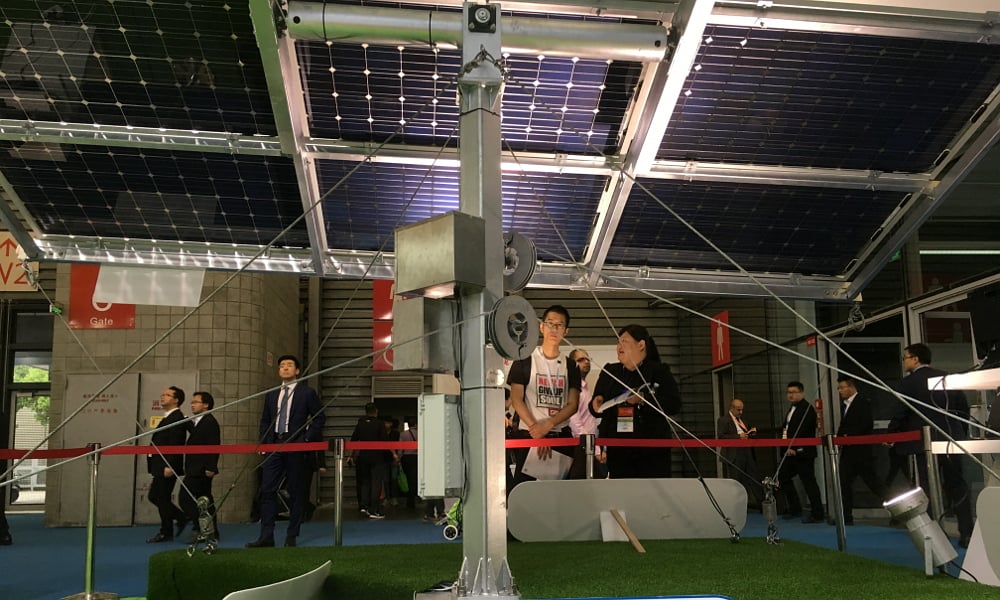 BIG SUN Group has recently synergized its dual axis iPV tracker with a bifacial module resulting in up to a 100% power generation gain over a conventional fixed tilt system, according to the company.
Problem
The recent development of cost-effective bifacial PV modules, which have the ability to significantly increase PV power plant yields require fixed mount and tracker systems that do not impeded scattered light from the rear solar cell as this can limit yield benefits.
Solution
BIG SUN's iPV Tracker has been redesigned to maximize the use of bifacial modules. iPV tracker's unique 360 degree, universal axis design with a slim cable drawn driving mechanism, has reduced the shading impact from the sizable linear actuator and slewing drive employed with the conventional dual axis trackers. To eliminate any shading induced from the module mounting frame, BIG SUN has redesigned the rear supporting frame so as to match exactly to the frame dimension of any module.
Applications
PV power plants.
Platform
The iPV Tracker is also tall enough to have the sunlight reflected and absorbed onto the rear side of the bifacial module. These features have enabled the realization of the benefits of bifacial modules, especially in snow season regions. Another innovative energy monitoring system, iPVita, designed by BIG SUN, can furnish power generation status, environmental sensor feedback (irradiance, wind speed, temperature), operation efficiency and remote control, at just a click away on your mobile device. In particular, the auto abnormality alert system has in itself differentiated specific hardware failure, system down, network issues or a communication breakdown issue. Such diagnosis function combined with the auto abnormality dispatching/tracing function of iPVit a has facilitated the iPV Trackers to reach > 99.9% availability in field operation. Another significant enhancement this year has been its 2nd generation wheel axis structure and spring design. This much simplified design has prevented the slipping of steel cable rendering much less noise than before. Also the upgraded design of spring in parallel connection with steel chains has further reinforced a more robust driving mechanism.
Availability
September 2017, onwards.