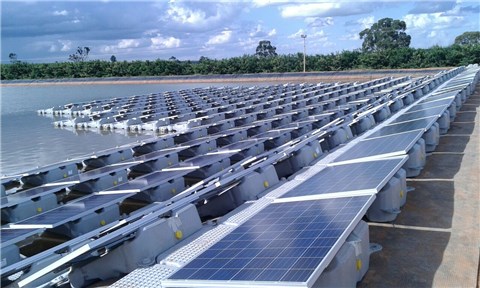 Ciel & Terre Brasil, a subsidiary of French floating PV specialist Ciel & Terre, has completed Brazil's first floating solar project, standing at 304kW capacity on a rainwater accumulation pond at Fazenda Figueiredo, Cristalina, in the state of Goias.
Mathias Ludwig, engineer at Ciel & Terre Brasil, told PV Tech that the firm is developing two other 5MW floating projects in Brazil: one in Balbina in the Amazon region; the other one in Sobradinho in the northeast Bahia region.
The project in Bahia is very close to the start of the construction, while the Balbina plant is likely to start construction in the first semester of next year. C&T's flagship product is its Hydrelio floating solar solution, which it is deploying in multiple locations across the globe, including one of the largest ever floating projects in China (70MW).
Environmental clearance
Ludwig also said that Brazil's policy environment is highly favourable at present.
"There's a new law in the Sao Paolo state for example that is very interesting because you don't need any environmental approval for projects equal or under 5MW if they don't have suppression of vegetation, so the floating projects are very interesting in [the] Sao Paolo region," he said. "The project in Sobradinho; the approval for environmental process took about two weeks, so it was very very fast because of all the different studies we have around the world that show there is no environmental impact with this technology."
Ciel & Terre Brasil, a joint venture between Ciel & Terre and Brazilian company Sunlution, has also partnered with petrochemical company Braskem in Brazil for the high density polyethylene floats to be manufactured with Braskem resins. Braskem is also working as a business development partner with C&T looking for new project opportunities.
"Our Hydrelio product is the solution of less investment to increase the generation of energy in existing hydroelectric and wind farms and we believe that Brazil has enormous potential for this market, "said Orestes Gonçalves, junior managing partner of Ciel & Terre Brasil.