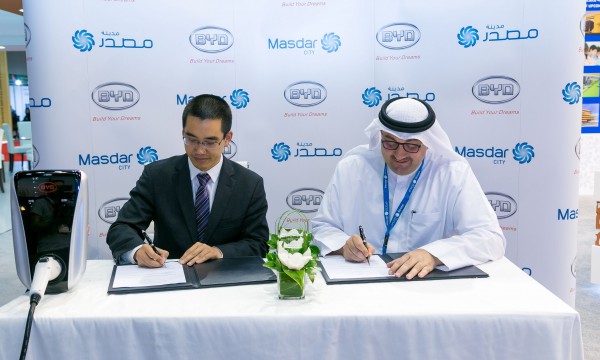 Chinese rechargeable battery, electric transport and clean energy company BYD has been signed up as a "preferred partner" to Abu Dhabi-headquartered Masdar.
Masdar is the UAE's state-backed initiative for developing future energy solutions, describing itself as an agency to bridge the gap between hydrocarbon-based economies of the past and the energy efficient, renewable future.
The group has signed the agreement with BYD ("Build Your Dreams"), which is increasing its share of the growing EV market in China rapidly. The initial focus of the collaboration will be the promotion of battery-based energy storage and on clean transport. This could include driverless cars for mass transit and a hub for energy storage solutions.
BYD, which noted investor Warren Buffet famously has a stake in, revealed plans last year to develop as much as 34GWh production capacity for batteries by 2020, rivalling Tesla's much-vaunted Gigafactory in scale. BYD currently has a market capitalisation of US$19 billion. The company also signed a deal with Swiss engineering giant ABB on developing energy storage technologies in 2014.
The initial areas of focus could be expanded to encompass other technologies, such as utility-scale and rooftop solar panels, LED lights and solar street lights, Masdar said. Masdar has R&D facilities in Masdar City, a planned, sustainable development where incidentally the headquarters of the International Renewable Energy Agency (IRENA) are also based. BYD's technology will be showcased at the Masdar City R&D hub as well as at Masdar Institute of Science and Technology and at various city locations.
"Today's agreement is the basis for a long-term partnership that will add further value to the advanced R&D already taking place at Masdar City in Abu Dhabi, and will strengthen the City's positioning as an 'innovation ecosystem' connecting R&D, education, business and investment," Masdar chief executive Mohamed Al Ramahi said.
"We are looking forward to working with BYD on a range of cutting-edge projects, and to integrating their expertise as we pursue the many growth opportunities in the clean energy sector, particularly in the Middle East & North Africa."
BYD's general manager for the Middle East and Africa regions, AD Huang, said the company wanted to help bring three "green dreams" to the UAE and wider Middle East: "affordable solar power generation, efficient energy storage and electrified public transportation".