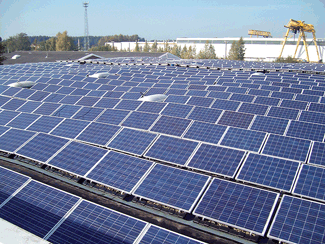 Canadian Solar has closed US$45 million in financing with Natixis, a subsidiary of French banking company Groupe BPCE, that will be used to construct Canadian Solar's 68MW PV project in Aguascalientes, Mexico.
Canadian Solar was awarded the Aguascalientes project during Mexico's 2016 auction for renewable energy. Electricity generated by the project will be sold to Comisión Federal de Electricidad under a 15-year power purchase agreement for energy and capacity.
The Aguascalientes PV project will be comprised of over 200,000 high-efficiency CS6U-P poly modules supplied by Canadian Solar. Construction of the project began in April, with completion expected in December 2018.
Once completed, the project is expected to meet the energy demands of approximately 60,000 local homes and reduce greenhouse gas emissions by approximately 30,000 tons of carbon dioxide.
Dr. Shawn Qu, chairman and chief executive officer of Canadian Solar, said: "This is Canadian Solar's first solar power project in Mexico and our first time working with Natixis. I expect more to come in this rapidly growing market. We have a 436MW pipeline of late-stage solar projects with PPAs in Mexico and look forward to collaborating with financial institutions, such as Natixis to, construct these projects."