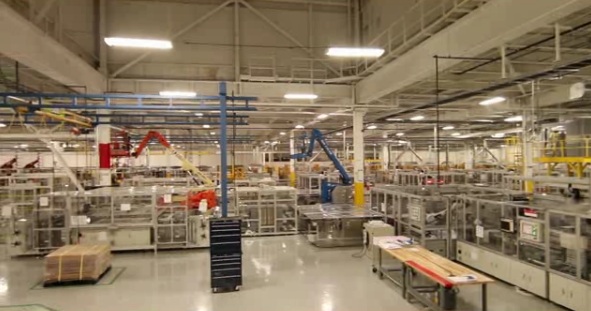 'Silicon Module Super League' (SMSL) member Canadian Solar has lowered nameplate capacity expansion plans in 2018 for both in-house solar cell production and module assembly as total module shipment guidance for 2018, indicates marginal growth.
The SMSL reported total solar module shipments in 2017 reached a new record high of 6,828MW, compared to 5,232MW in 2016.
However, initial guidance given for 2018, which includes a wide range for module shipments to be between 6.6GW to 7.1GW, suggests less than 300MW of shipment growth year-on-year, or less than 4% annual growth.
Having adjusted manufacturing capacity expansions throughout 2017, Canadian Solar continued to tweak plans for 2018, a second time.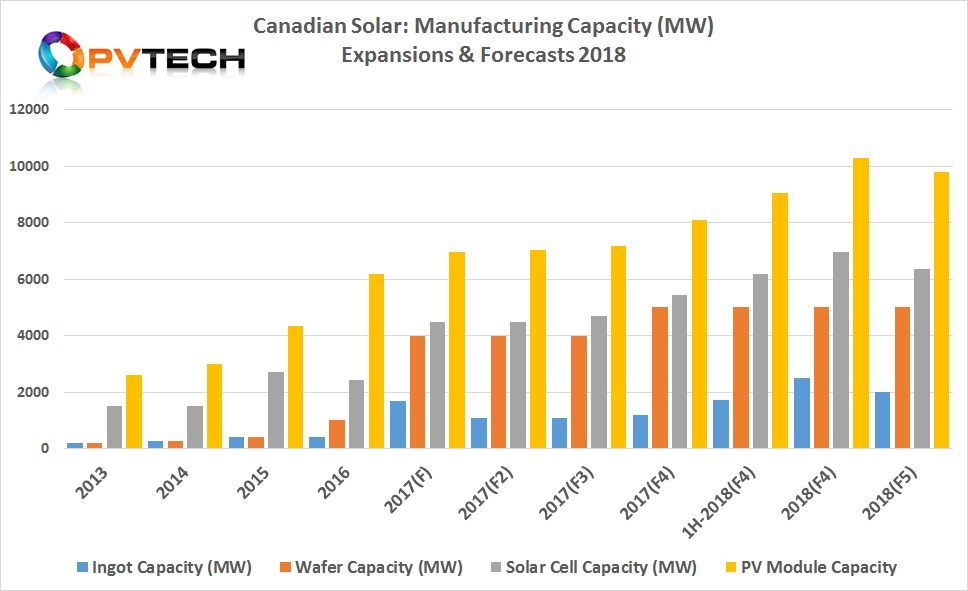 In reporting fourth quarter and full-year 2017 financial results, the SMSL noted that its wafer manufacturing capacity at the end of 2017 stood at 5.0GW, a 3GW increase from 2016. The SMSL also noted that all wafer capacity had been migrated to diamond wire-saw technology in 2017, which goes in tandem with its proprietary 'black silicon' texturing process required with diamond wire-saw for p-Type multicrystalline wafers.
However, the company has not announced new wafer capacity expansions for 2018, keeping capacity as 5GW.
Solar cell manufacturing capacity stood at 5.45 GW at the end of 2017, up from 2.44GW in 2016, in-line with previous upwardly revised guidance.
Canadian Solar has revised its cell capacity expansion plans again, noting that it expected nameplate cell capacity to reach 5.6GW by mid-2018, compared to 6.20GW in its previous update. The SMSL also noted that cell capacity at the end of 2018 was expected to reach 6.35GW, compared to previous guidance of reaching 6.95GW.
A similar adjustment has been made to in-house module assembly capacity expansion plans. The SMSL noted module capacity reached 8.11GW by the end of 2017, up from 6.17GW in 2016.
The company said that module nameplate capacity was expected to reach 8.31GW by mid-2018, compared to its last update of reaching 9.06GW in that time frame.
Total module assembly capacity by the end of 2018 is targeted at 9.81GW, compared to 10.31GW guidance, previously given.
Management noted that it had recently experienced under-utilization rates at its module assembly plant in Canada and its manufacturing plant in South East Asia, due to the Section 201 tariff decisions by the US government.
However, management also noted that its current order book and the global financing environment provided 'uncertainty relating to final customer demand and solar project construction and sale schedules' in 2018.