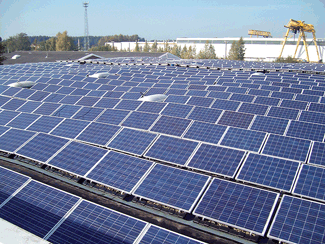 Canadian Solar and Denmark's Pensionskassernes Administration (PKA) have finalised a transaction that will see PKA acquire a large stake in a pair of solar plants in California.
In the deal, valued at around US$307 million, PKA will acquire Canadian Solar's 49% passive equity stake in the Garland and Tranquillity solar projects, which have a combined generation capacity of 260MW. The transaction stands as PKA's first solar investment.
Both PV projects were completed by Recurrent Energy and started operations in 2016. Southern Power owns a 51% stake in both installations. The sites are located in Fresno and Kern County, California, and generate enough energy to power 100,000 homes.
Peter Damgaard Jensen, chief executive officer of PKA, said: "At PKA we are strongly committed to investing in a greener and more sustainable future while securing good returns for our members. Therefore, we are delighted to partner with Canadian Solar and Recurrent Energy and add yet another green energy investment to our portfolio. This is our first direct investment in solar energy, and it is an important addition to our investments in wind energy and biomass. By 2020 our ambition is to have 10% of our total investments allocated to climate related projects equivalent to 30 billion Danish kroner."