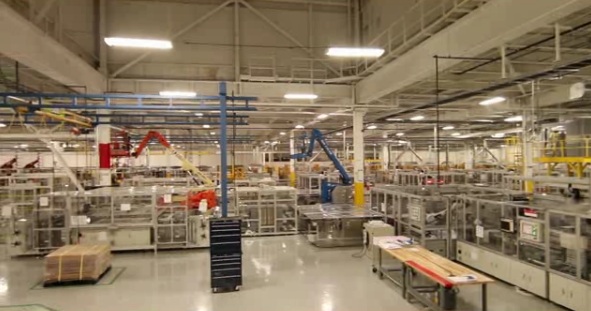 'Solar Module Super League' (SMSL) member, Canadian Solar is targeting to achieve over 15GW of PV module manufacturing capacity in 2020, while relying on China-based merchant solar cell producers.
The SMSL previously planned to expand PV module capacity from over 8.8GW in 2018 to 11.2GW by the end of 2019. Several amended plans during the year have pushed capacity plans to just over 13GW by the end of the year.
In releasing third quarter 2019 financial results, Canadian Solar noted that it expected to increase PV module capacity to over 15GW in 2020. In typical fashion, Canadian Solar did not provide insight into where the capacity would be added, having its major manufacturing bases in China but also smaller operations in Canada, and Thailand as well as foundry capacity in Brazil (Flex) and Vietnam.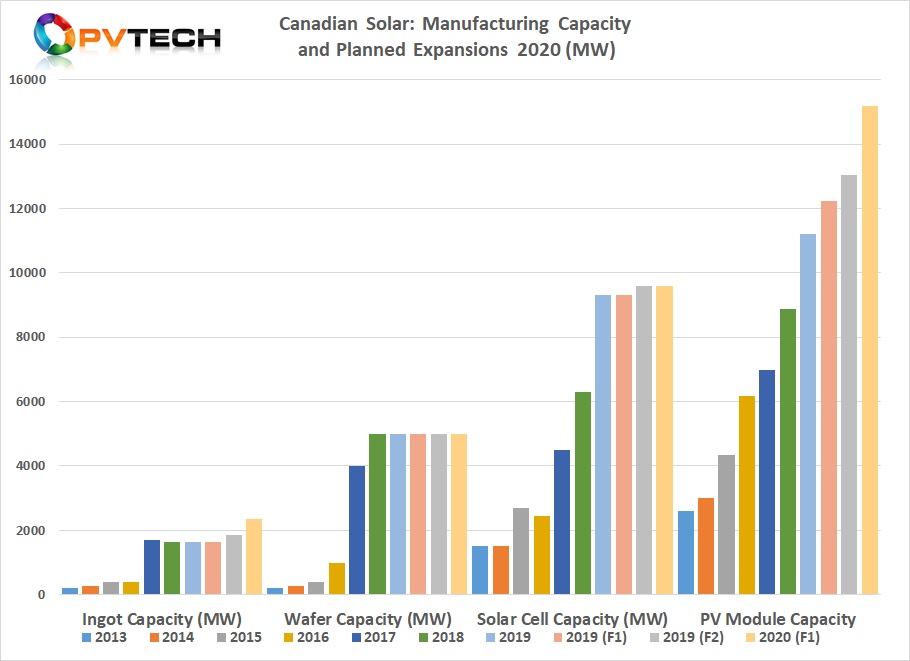 The latest module capacity expansion plans also relate to the adoption of larger wafer sizes via long-term supplier GCL-Poly. Canadian Solar said in its latest earning call that the latest expansions and unspecified upgrades at some existing module assembly plants were to handle GCL-Poly's casted-mono 166mm x 166mm wafers.
PV Tech has highlighted the rapid industry transition to larger wafer sizes with standard 156mm x 156mm multicrystalline wafer size almost disappearing in 2020. This is forcing the likes of Canadian Solar to upgrade module assembly lines to handle the larger wafer and module formats.
"We're rapidly ramping up mass production of our P5 casted mono modules and expect P5 capacity increase significantly throughout next year," noted Canadian Solar's CEO, Shawn Qu, in the earnings call.
The company also planned to increase solar cell capacity from 6.3GW in 2018 to 9.3GW by the end of 2019. In its latest manufacturing update, Canadian Solar reiterated that it was only planning to expand in-house cell production to 9.6GW in 2019 and holding that capacity through 2020.
The SMSL will continue to depend on China-based merchant solar cell producers such as Aiko Solar and Tongwei Group to fill the gap. These merchant cell producers are also expanding capacity to accommodate larger wafer sizes between 161mm x 161mm and 166mm x 166mm.
Canadian Solar's 'asset-lite' manufacturing strategy has enabled the company to keep capital expenditures low, relative to some of its rival SMSL members. In 2018, Canadian Solar's total capex was US$316.3 million.

The company also keeps annual R&D spending at low levels, compared to many of its rivals. According to PV Tech's analysis, Canadian Solar increased R&D expenditure from only US$28.7 million in 2017 to US$44.2 million in 2018, a 53% increase.
However, despite the significant spending increase in 2018, R&D spending as a percentage of revenue had remained well below one percent for many years and only topped 1.18 percent in 2018.