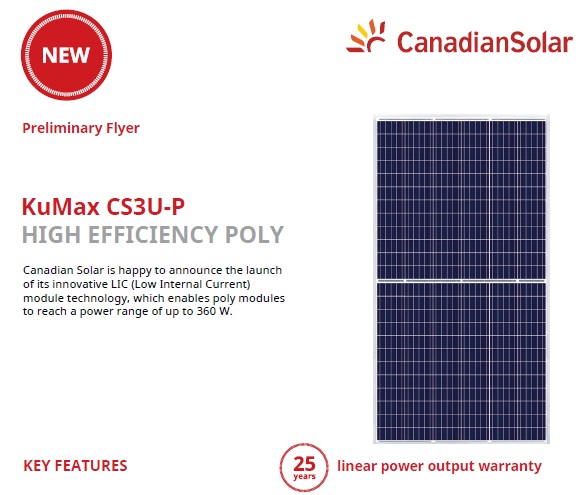 Canadian Solar has launched an innovative 'cool' PV module design, dubbed 'Ku' modules. The new PV module series is based on Low Internal Current (LIC) module technology to provide better module energy yield and reliability.
Problem
Continued development of high-efficiency and thus higher-output PV modules can lead to increased issues with cell hotspots caused by shading, which produces excess heat at any shadowed cell that leads to permanent damage with persistent high temperatures. Hotspots can be caused at various cell manufacturing process steps such as incomplete edge isolation as well as poor cell current matching at the module assembly stage.
Solution
The Ku Module portfolio uses Canadian Solar's proprietary black silicon cell technology. The black silicon cell efficiency exceeds that of the current standard polysilicon cells in the market, according to the company. The (LIC) module technology is intended to reduce NMOT (NMOT: 43 ± 2 °C) and lower hotspot risks, resulting in better energy yield and reliability.
Applications
Residential, commercial and utility-scale markets.
Platform
The new Ku Modules portfolio is available in both poly- and monocrystalline. Ku modules family consists of following types: KuMax (144 cells), KuPower (120 cells), KuBlack (120 cells) and the corresponding double-glass KuDymond. The KuMax modules have a power class up to 360 Watts.
Availability
June 2017, onwards.