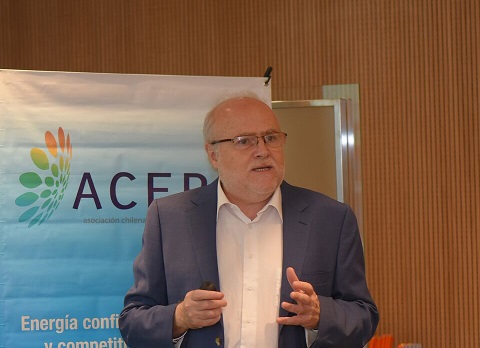 Chile is forecast add 1.5GW of new renewable energy capacity in 2017, according to Carlos Finat, the executive director of Chile's renewable energy association, ACERA.
Speaking at the annual ACERA press conference, Finat said that 2016 saw energy prices reach lows that were previously "unthinkable", while the industry had grown "explosively".
As of 31 December 2016, the Chilean electricity system had 4,150MW of renewables installed, while it also surpassed 1GW of solar at the beginning of 2016.
ACERA expects renewable deployment in 2017 to maintain a growth rate similar to that of 2016 and predicts that renewables generation will reach 30% in 2030 and 100% by 2050.
However, Finat said the sector faces several challenges such as implementing the regulations of the major transmission law upheaval of 2016.
Referring to the ongoing construction of the Cardones-Polpaico line, Finat added: "We are very concerned that we will continue to delay, so it will be a matter that we will follow closely and we will make every effort within our reach to operate within the appropriate timeframe."
2017 will also see the beginning of the presidential election period, which is sure to shape the future of energy policy.
Newly-appointed president of ACERA, José Ignacio Escobar, added: "Energy independence is of great value and we must continue working to achieve it. With regard to the challenges ahead, I believe that the essential point remains to make Chile a sustainable country, and for that, [renewables] are a key and fundamental tool."
On another note, ACERA analysis suggests that if renewables had not been included in the country's largest ever power auction last year, the average price of the adjudication would have been US$55.1/MWh, far above the final US$47.6/MWh that was achieved. However, Solar only received a small portion of the capacity available with wind dominating.