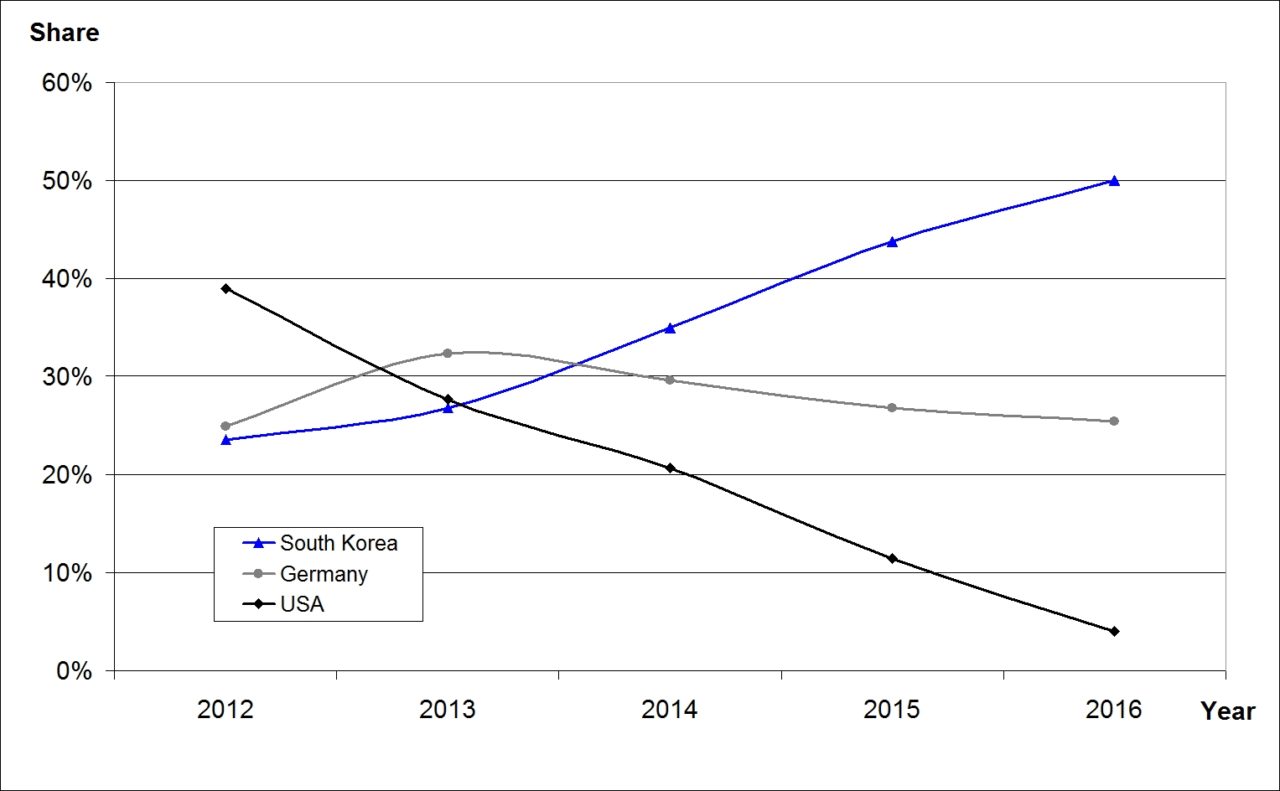 According to polysilicon market specialist, Bernreuter Research recent polysilicon import levels into China surged between October and November 2016, while ASP's also recovered, a trend seen the year before and ahead of China installing a record 22GW of solar in the first half of 2016.
Bernreuter Research noted that polysilicon imports into China in October 2015 went from 7,504MT to 10,028MT in the following month, a 33.6% increase. Imports were said to have peaked at 13,866 MT in March 2016. The timing is inline with the upstream supply chain meeting PV module demand by the end of June, 2016 when FiT changes applied.
However, a new surge in polysilicon imports mirrored the previous cycle with 8,680MT imported in October, 2016 and 13,584MT imported in November last year, a 56.5% increase.
"The upper part of the PV value chain obviously anticipates an installation rush that could be even stronger than what we saw in China in the first half of 2016," says Johannes Bernreuter, head of the polysilicon market research firm Bernreuter Research and author of the Polysilicon Market Outlook 2020.
According to the Chinese customs statistics, polysilicon imports reached a new monthly record high of 14,449 MT in December 2016.
Recently, major polysilicon producer Wacker Chemie reported preliminary fourth quarter and full-year financial results for 2016, noting polysilicon sales of €295 million, compared to €242 million in the prior year period, a 22% increase. EBITDA increased by 20%, indicating an ASP improvement.
However, Bernreuter noted that three South Korean polysilicon producers OCI, Hankook Silicon and Hanwha Chemical had been the key beneficiaries of demand in China as the Korean share in total polysilicon imports into China has more than doubled from 24% in 2012 to 50% in 2016.
"OCI and Hankook have benefitted from low import duties of 2.4% and 2.8%, respectively, while US manufacturers have effectively been shut out from the Chinese market by prohibitive duty rates of 53.6% to 57%," added Bernreuter.
Although polysilicon imports indicate a repeat cycle from 2016, the end-market demand may be higher in 2017.
Bernreuter noted that part of spike in imports in the fourth quarter was due to a large number of Chinese polysilicon producers curtailing production and carrying out annual maintenance of plants, though extended these operations due to market demand weakness through the second-half of 2016. Recent official Chinese PV install figures for the second half of 2016 were 13GW, compared to 22GW in the first-half of the year.
However, domestic production quickly recovered from 12,600MT in October, 2016 to a new high of 18,000MT in December, according to Bernreuter.
With increased domestic production and imports spot market prices are moving upwards, indicating the strong demand. Bernreuter expects that the international spot price will climb towards US$17/kg in the first-half of 2017, while the expectation is prices would fall after June's FiT reductions.