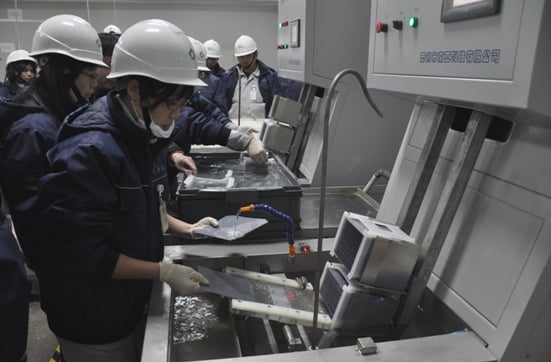 Typically the terrain of LONGi Green Energy, which has dominated the market for the past six years, the solar wafer production field in China is becoming increasingly competitive, with other companies keen to capitalise on the high demand for silicon wafers.
TCL Zhonghuan is now competing "neck-and-neck" with LONGi, while Shangji Automation, Shuangliang Eco-energy and Gokin Solar, as well as others, are rushing to establish themselves in the market by investing in new technology and attracting capital and clients.
Wafer companies making massive profits
On the evening of 19 October, leading PV silicon wafer supplier TCL Zhonghuan supplier released its Q3 report, which shows that the company achieved an operating revenue of about RMB49.85 billion (US$6.82 billion) in the first three quarters of this year, with a year-on-year growth of 71.35%. Net profit attributable to shareholders of the listed company was about RMB5.01 billion (US$690 million), up by 80.68% year-on-year.
TCL Zhonghuan said that it was continuing to promote technological innovation and manufacturing reforms, accelerating the process of releasing advanced production capacity as well as optimising and upgrading product structures. The continued cost reduction and increased efficiency facilitated substantial performance growth, it noted.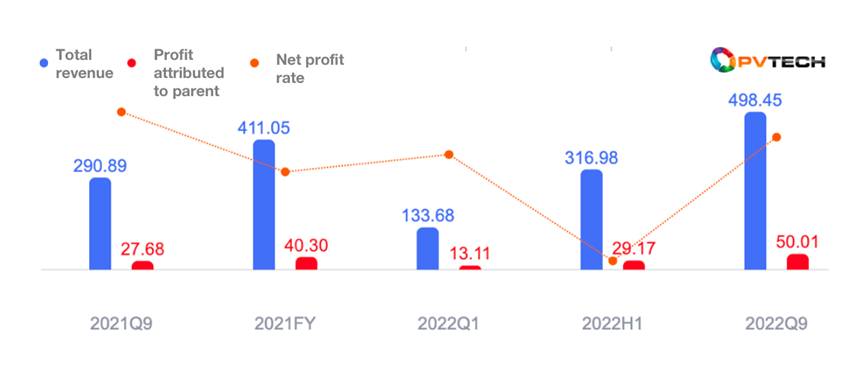 Multiple silicon wafer companies reported good performance
LONGi Green Energy disclosed its main operating data for January to September 2022, which shows that it was expected to achieve an operating revenue of RMB86.4 billion – RMB87.4 billion (US$11,82 billion – US$11.96 billion), a year-on-year growth of 54% to 56%. Net profit attributable to the shareholders of the listed company is projected to be RMB10.6 billion – RMB11.2 billion (US$1.45 billion – US$1.53 billion), an increase of 40%-48% year-on-year.
LONGi said that it actively grasps market opportunities and adopts a flexible business strategy to cope with changes. During the reporting period, the company's external sales of silicon wafers and modules increased year-on-year, while investment income and exchange income increased substantially, facilitating a significant growth of operating revenue.
| | | | | |
| --- | --- | --- | --- | --- |
| Name | Revenue (RMB100 million) | YoY Growth | Net Profit (RMB100 million) | YoY Growth |
| LONGi Green Energy | 864-874 | 54-56% | 106-112 | 40-48% |
| TCL Zhonghuan | 498.45 | 71.35% | 50.01 | 80.68% |
| Shangji Automation | 174.86 | 130.49% | 28.31 | 101.43% |
| Shuangliang Eco-energy | 87.45 | 285.7% | 8.3 | 368.80% |
Performance of wafer companies for the first 3 quarters in 2022
On 9 October, silicon wafer "upstart" Shangji Automation announced that it achieved an operating revenue of RMB17.486 billion (US$2.39 billion) for the first three quarters of the year, a year-on-year growth of 130.49%. Net profit attributable to shareholders of the listed company was RMB2.831 billion (US$2.83 billion), up by 101.43% year-on-year. It is estimated that the net profit for Q3 was RMB1.255 billion (US$170 million), up by 36% from the previous quarter, a record high for a single quarter.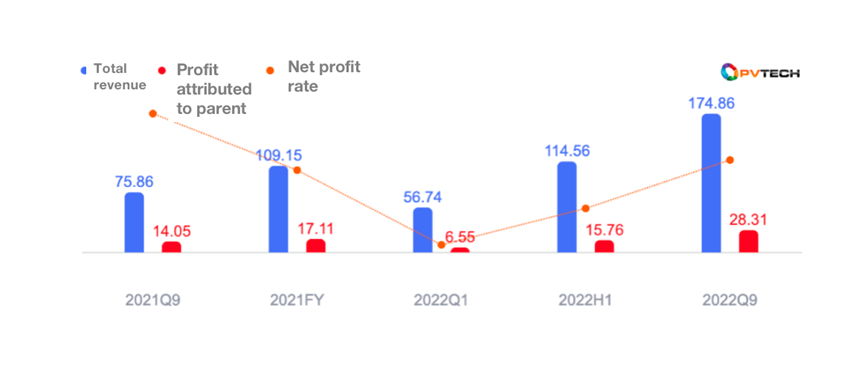 Shuangliang Eco-energy achieved a total operating revenue of RMB8.75 billion (US$1.2 billion) in the first three quarters, up by 285.7% year-on-year. Net profit attributable to the parent company reached RMB830 million (US$113.56 million), a year-on-year increase of 368.8%. Both performances hit record highs for the company.
The company's Q3 quarterly performance was also significant. It achieved a revenue of RMB4.449 billion (US$610 million), up by 337% year-on-year. Net profit attributable to its parent reached RMB477 million (US$65.3 million), a year-on-year increase of 539.28%. Shuangliang Eco-energy said the performance growth was mainly attributed to the sales boost of polysilicon equipment and mono silicon wafers driven by its "double carbon" policy.
From each company's performance, we can see that LONGi Green Energy secured its leading position by a prominent advantage and a relatively stable growth rate. TCL Zhonghuan came in second with a significant increase. The other two newly emerged stars also achieved record-high growth with prominent profits despite comparatively lower volumes.
Grasping opportunities in larger n-type modules
Currently, most of the world's silicon wafer production capacity is located in China, where all of the top 10 manufacturers are based. According to the US Department for Energy, 97% of global wafer capacity is held by China.
There are mainly two types of business models for PV silicon wafer enterprises: the "vertically integrated" model adopted by LONGi Green Energy, TCL Zhonghuan, JinkoSolar and JA Technology, while Shangji Automation, Shuangliang Eco-energy, Jiangsu Meike and JingYuntong adopt the "independent and specialised" model.
In terms of competition pattern, China's mono silicon market is highly concentrated with the top five companies occupying the vast majority of the market, and the total market share is close to 90%. LONGi Green Energy and TCL Zhonghuan ranked first and second respectively, accounting for more than 50% of the market, forming a "duopoly" situation.
Meanwhile, new wafer players have emerged in the past two years, with the likes of Shuangliang Eco-energy, Shangji Automation, Gokin Solara and Beijing JYT becoming top performers.
Since 2019, Shangji Automation had transformed itself from a leading supplier of wafer slicing machines into a silicon wafer supplier. By the end of 2021, the profit scale of its silicon wafer business ranked third in the world, only below LONGi and TCL Zhonghuan. By the first half of 2022, the company's mono silicon business accounted for 97.28%, with 30GW of ingot pulling capacity and 20GW of wafer slicing capacity. In the first half of 2022, its mono silicon shipments reached 15GW.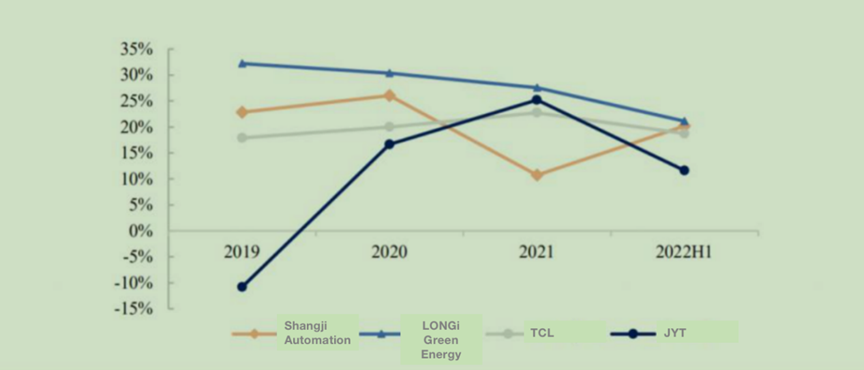 In June and August this year, Shangji Automation established a 40GW mono silicon ingot pulling project and 25GW mono silicon wafer slicing project in Baotou and Xuzhou, respectively, aiming for 70GW ingot pulling and 45GW wafer slicing capacity. Currently, the company's 50GW wafer capacity is compatible with production of all sizes including 210mm.
According to Shuangliang Eco-energy's mono silicon wafer business planning, it is expected to have a production capacity of more than 40GW by the end of 2022 with the progression of various projects. Gokin Solar said that its planned silicon wafer capacity was only second to that of LONGi and TCL Zhonghuan, as it takes aim at third place in the market.
The above mentioned newcomers are all benefiting from the market demand for large-size silicon wafers, which are now undergoing a rapid developing period. According to China Photovoltaic Industry Association (CPIA), the market share of 182mm and 210mm wafers has grown rapidly from 4.5% in 2020 to 45% in 2021. It is expected that the market share of large-size silicon wafers will reach 75% and 95% respectively by the end of 2022 and 2025.
On the other hand, currently the PV industry is transforming from p-type to n-type technology, creating yet another opportunity. As more and more large plants such as those of Jinko Solar, Risen Energy, Trina Solar, JA Solar, DAS Solar and Jolywood expand their production of n-type products, there will be more large n-type purchase orders.
However, PV Tech's market research noted that the silicon wafer segment still has room for development. Soft power in technology should be given importance in addition to capacity expansion as it is key to grasping those opportunities. At present, reducing manufacturing costs and improving product quality are the main direction of technological progress in the industry, and also a key factor for silicon wafer companies to get ahead in the competition.
For mono silicon wafers, cost reduction is mainly achieved by improving the yield of mono silicon, reducing the loss during wafer slicing and increasing the yield per unit. Yet the production of low cost and high quality mono silicon wafers has high technological requirements to be realised through consistent equipment transformation and procedure optimisation, which is a test for the R&D capability of wafer companies.
If the late comers fail to establish a sound production system and related standards in a short period of time, they will be at a great cost disadvantage and face the risk of being eliminated from the market.