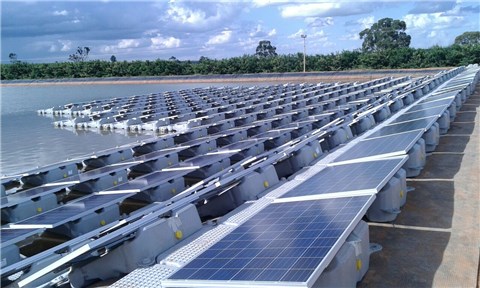 France-based floating PV specialist Ciel & Terre is expecting to launch a floating solar equipment manufacturing facility in Thailand next March and is in the final stages of approving a Vietnam facility.
Harold Meurisse, branch manager, Ciel & Terre, ASEAN and Oceania, told PV Tech that the firm will also set up an R&D centre in Thailand to help address the specifications of the local market.
A key signal that Thailand was ready for this floating technology, was the main utility EGAT announcing its interest in developing 65MW of floating solar in the next three years, which has created much noise, said Meurisse.
He added: "Thailand is a very good country because the solar industry there is very mature, so there are a lot of players EPCs, IPPs, investors who can deliver the work quite easily and remove all the safety factors that you can find in some countries where solar industry is not mature enough."
Ciel & Terre already has many Thai projects in the pipeline, but the manufacturing facility for the floating structures will include an all-new product. All of the company's previous facilities have been based on its original product developed three years ago. The new line promises a tailor-made solution based on the specifications and requirements of the Southeast Asian country.
Meurisse said: "What we faced so far in Southeast Asia, what is really driving the industry, is the pricing."
Unlike in Japan where quality and risk mitigation is absolutely paramount, Southeast Asia is all about cost, Meurisse said, and Ciel & Terre is trying to offer both good pricing and reliability at the same time for these markets. The firm is constantly innovating its floating solution and is in talks with banks, developers and EPCs about the new products. The company has already convinced investors that its original product was a viable application, given the number of projects already completed worldwide, so now it is focusing efforts on reducing costs and expanding its scope of services.
Meurisse said: "What we are providing in Southeast Asia will be a full package, with a floating structure, plus the anchoring solution, and also some financial backing."
He noted how the company had passed severe technical due diligence by the Royal Bank of Scotland for a 6.4MW project in the UK, developed by Lightsource, and as result he said: "We are recognised as a true bankable player, which is one of the most important aspects when it comes to floating [solar]."
Eyeing Vietnam
Ciel & Terre also plans to move into Vietnam soon and launch another local manufacturing facility. It is currently defining a location and a decision will be taken by the end of the month.
Meurisse said: "The main challenge remaining is to respond to all the enquiries and have the volume of manufacturing capacity to address all the interim enquiries and of course the level of pricing, which will be quite cost-competitive."
The location will be in the centre or south of Vietnam, in zones already identified by the government in its master plan of renewable energy development.
Vietnam's monopoly utility EVN has also announced plans to release a 47.5MW floating solar tender later this year on top of a hydroelectric dam, so the project can enjoy the already existing grid infrastructure.
Meurisse said: "The problem with Vietnam is that land is costly, and second you don't have much space on the grid infrastructure so it means that a lot of projects are being developed with feasibility studies, but it's not showing yet that they will be able to connect to the grid."
He also noted foreign investor uncertainty around Vietnam's power purchase agreement (PPA) parameters – adding: "There's a lot of questions pending on the feed-in tariff from Vietnam, but the market is there – the land is not really accessible for everybody and so the floating solar makes a lot of sense."
Ciel & Terre has already identified at least 2GW of opportunities for its own floating PV projects in Vietnam and expects there to be many more opportunities.
Malaysia auction waiting
The firm is also awaiting the results of Malaysia's second LSS renewable energy auction, but it has been pushing for a floating solar category to be introduced in the next LSS auction, because in the current scenario it is difficult to compete with ground-mount projects. However, Meurisse expects floating solar to close the gap with ground-mount in the future.
Ciel & Terre has also estimated the floating PV potential in Malaysia and found that just using 10% of the industrial ponds, hydroelectric dams, irrigation reservoirs and artificial ponds available, it could also develop another 2GW of projects.
Explaining the company's philosophy of setting up manufacturing locally, Meurisse said the aim is to set up local teams and transfer local knowhow to governments, who are often inexperienced with the technology. It also provides the floating product and R&D and then can also act as developer or EPC when necessary.
The company already has manufacturing locations in multiple global markets:
| Country | Number of manufacturing lines |
| --- | --- |
| China | 14 |
| Japan | 2 |
| Taiwan | 2 |
| Brazil | 1 |
| Korea | 1 |
| UK | 1 |
| France | 1 |
| US | 1 |