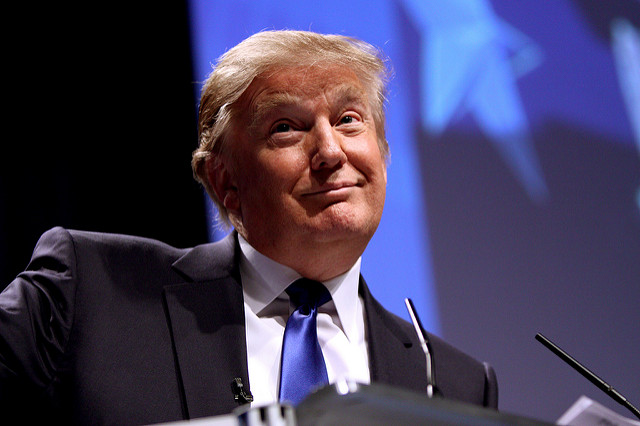 President Trump's long anticipated executive order advising the Environmental Protection Agency to withdraw parts of the Clean Power Plan (CPP) has left clean energy advocates unabashed, despite critics viewing the order as a total wipe out of Obama's climate action legacy.
More symbolic than anything else, the order that will likely roll back some of the nation's first set of limits on greenhouse gas (GHG) emissions will leave the clean energy industry unscathed, according to experts. Trump has also sought to halt legal action against the CPP clearing the way to dismantle it.
Even before Trump was inaugurated, threats to eradicate the Plan, exit the Paris agreement, and even slash clean energy subsidies did not cause the industry to lose faith.
Concluding that low equipment prices of technologies such as wind and solar mean renewables can compete with fossil fuels, the sector is no longer reliant on any federal level regulations or incentives.
It would have mattered a lot more three, four, or five years ago, but the clean energy train has left the station and the market is going to decide that clean energy is our nation's future, not fossil fuels.
"The Clean Power Plan played an important role in getting utilities to give renewables a chance and find out that they were affordable sources of new generating capacity. And now that realization is out there…spiking the Clean Power Plan or trying to promote unsustainable policies is not going to change that," George Washington Solar Institute director Amit Ronen told PV Tech.
"It would have mattered a lot more three, four, or five years ago, but the clean energy train has left the station and the market is going to decide that clean energy is our nation's future, not fossil fuels.
"As much as they try, the clean energy haters in the Trump Administration can't take away the reality that solar and wind are now in many cases producing power even cheaper than fossil fuels, even with rock-bottom natural gas prices in the US," he added.
Further, the US Energy Information Administration (EIA) reported that renewable energy will still be on the rise, regardless of the existence of the Clean Power Plan. The report, entitled Annual Energy Outlook 2017, contains long-term projects up to 2050 that indicate that clean energy and natural gas will continue to grow, even in the scenario where the CPP is omitted.
"Even if the CPP is not implemented, low natural gas prices and the tax credits result in natural gas and renewables as the primary sources of new generation capacity," the report reads.
Bloomberg New Energy Finance (BNEF) concurs with those findings; forecasting that wind and solar will grow 51% over the next three years, even in absence of the Clean Power Plan.
New order won't bring back coal
However, the EIA contends that the primary driver of new alternative electricity capacity will be an ongoing series of coal-fired plant retirements. Report forecasts detail that without the CPP, coal generation will still remain steady through the 2020, and whilst at a slower rate than with the emission regulations in place, renewables and natural gas will continue to expand.
Notably, the executive order also ends a moratorium on federal land leasing for coal mines – meaning that more coal plants could remain open as a result of the order. However, despite releasing a public statement praising the president's commitment to "preserve coal jobs", Robert E. Murray, CEO of America's largest coal mining company Murray Energy, told the Guardian that he had warned Trump to manage his expectations regarding the dying industry.
"He can't bring [coal jobs] back," Murray said.
Clean energy momentum
Former US president Barack Obama attested to the unstoppable momentum of clean energy, arguing that its economic benefits alone will continue to drive the sustainable energy movement. This is demonstrated by Fortune 500 companies and key investors expanding their wind and solar portfolios.
And even without the sound business case for renewable energy and climate action, ultimately, regulation surrounding emissions reductions and clean energy procurement lies firmly within state law. Most states have adopted significant renewable portfolio standards (RPS) and their own emissions cuts targets.
For example, state law requires leading clean energy state California to generate half of its electricity from renewable sources by 2030, and senator Kevin de León has suggested pushing this even further.
"Rollback of the Clean Power Plan is pretty much irrelevant to California," said Frank Wolak, a Stanford University economist who has advised state leaders on climate regulations.
"The CPP was designed to follow the clean energy transition that was already underway, the one that the energy market depends on and the one that the energy market will continue to demand," said Gina McCarthy, former EPA administrator and chief architect of the Plan, whilst noting that 24 states already had lower emissions in 2015 than required by 2022 under the plan.
"Even if the Clean Power Plan is reversed, that is largely concerned with carbon dioxide emitting plants, and so is unlikely to impede the growth of renewables," Graham Smith, CEO of Open Energy, told PV Tech. "Renewables are strongly state-based in the US. Each state has its own attitude and set of policies towards renewable energy, irrespective of the overall [picture]. Those state and regional programmes in some cases are extremely strong, extremely alive and well and because they are on a legislative basis, states are really in control of those."