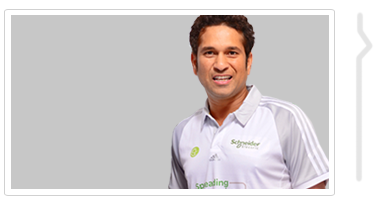 Indian megastar Sachin Tendulkar, famed worldwide as one of the greatest ever cricket players, has partnered with energy management specialsit Schneider Electric to provide solar home lighting systems to more than 25,000 Indian villagers, in just the first phase of a major new programme.
'Spreading Happiness', a not-for-profit organisation focused on rural electrification, was kick-started when Tendulkar was introduced to Schneider Electrics' In-Diya Lighting System, an LED-based lighting system that can operate on main power supply and/or solar power, and provides backup ranging from 8–15 hours for indoor use. The In-Diya system is said to provide 50,000 hours of lighting across its lifecycle.
Tendulkar then expressed a desire for Schneider Electric's India subsidiary to disperse its lighting system across rural India.
"As a country we cannot have our citizens still struggle with darkness in their lives with the setting of the sun," he said. "We have to use advancements in technology and the capabilities of international majors like Schneider Electric to deploy solutions which can brighten the lives of our countrymen. 'Spreading Happiness' is a small step towards changing lives and bringing smiles to the faces of many people in the country."
Tendulkar added: "For the last many years, my countrymen have showered me with unconditional love and affection irrespective of their location, social strata and personal challenges. 'Spreading Happiness' is my sincere effort to positively impact the present and future of the people who are an integral part of the real India, in partnership with a like minded organisation like Schneider Electric."
The Indian initiative has already rolled out a pilot project in Velunje, Nashik, in the state of Maharashtra, bringing lighting systems for more than 1,000 villagers.
The plan is to expand much further over the next two years. Rural electrification is a hot topic in India at present with the government extending its original plan to electrify every village to the more ambitious scheme of giving every willing household a solar power pack including storage, LEDs and TVs by December 2018. The ambition of this programme has already been in doubt due to the enormous acceleration in both manufacturing and deployment needed to reach the goal.
Schneider Electric has carried out similar work in Senegal, Nigeria and Madagascar, under its BipBop programme, which stands for 'Business Innovation and People at the Base of the Pyramid'.