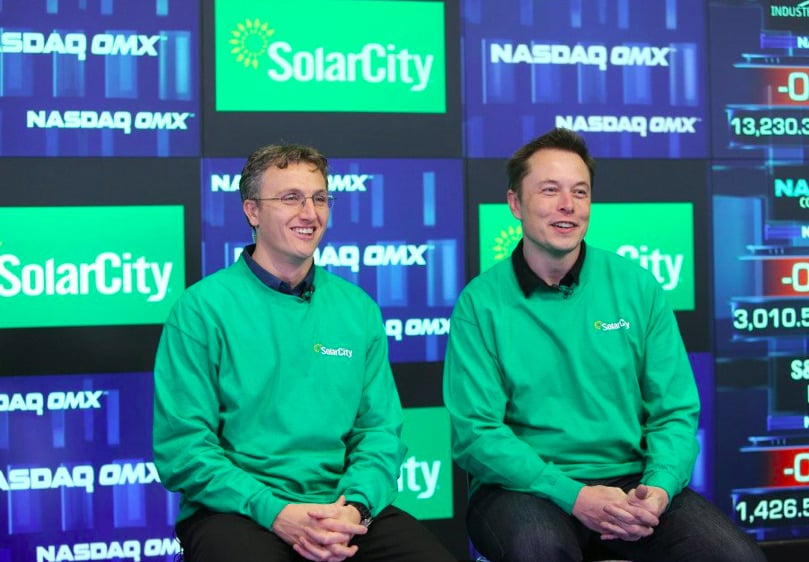 Tesla Motors and SolarCity are closer to combining their empires to form what could be the world's largest solar and energy storage company, as the final referendum for the merger has been officially set for 17 November 2016.
The date next month will host a shareholder meeting to vote on the prospective US$2.6 billion acquisition. According to a Tesla blog, final proxy materials are now being mailed to each company's shareholders in preparation.
If shareholders approve the transaction, proposed amidst mixed reviews from the solar industry and an investor backlash, a combined Tesla and SolarCity will materialise Elon Musk's vision for a world-first opportunity to "generate, store and consume energy sustainably, through a suite of integrated products that add aesthetics and function while reducing cost".
"By leveraging SolarCity's installation network and Tesla's global retail footprint, we can do this in a way that is seamless for our customers and that we expect will create significant value for our shareholders," the blog reads.
The final referendum is however not the only important date to marked on the calendars of eager spectators; on 28 October, the two companies will unveil a never-before-seen rooftop solar product, following a separate Tesla product unveiling on 17 October that Musk reveals will be "unexpected by most".
Tesla product unveiling on the 17th (unexpected by most), followed by Tesla/SolarCity on the 28th

— Elon Musk (@elonmusk) 9 October 2016
The Tesla-SolarCity product is designed to work in conjunction with the Powerwall 2.0 and, according to the company, will be a taster for what is to come should the two officially combine.
In anticipation for the upcoming events and new products, Tesla has beseeched its shareholders to vote their shares as part of the process by 16 November 2016.