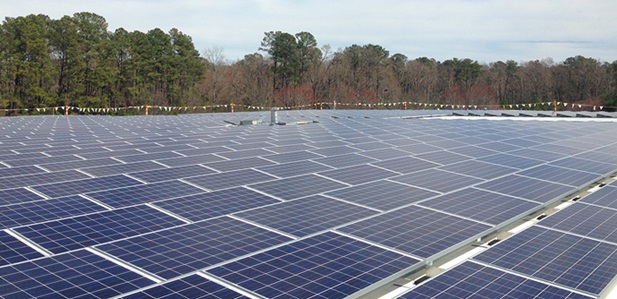 Dominion Energy and Coronal Energy will help develop a 15MW PV project at the University of Virginia.
As part of a 25-year agreement, the University of Virginia will purchase the entire output of a proposed proeject on 48-hectares in Middlesex County. Coronal Energy will develop the project, while Dominion Energy will construct and own the installation.
Once completed, the installation will account for 9% of the university's electric demand.
The UVA Puller Solar facility joins the previously announced UVA Hollyfield Solar facility. In total, the two installations will offset around 21% of the University's electricity demand.
Virginia governor Terry McAuliffe said: "Once again, UVA is providing public sector leadership on carbon emission reduction and renewable power generation in Virginia. This project, along with UVA's Hollyfield and the Commonwealth's Oceana Solar facilities, now means we are nearly halfway to achieving the 8% renewable procurement goal I set out in 2015. I look forward to working with other public universities to follow UVA's lead and power their educational operations with renewable energy."
The PV project will allow the university to reduce its carbon footprint by more than 15,000 metric tons a year, as well as reducing more than 19 metric tons of nitrogen.
UVA has pledged to reduce its carbon and nitrogen footprints by 25% by the year 2025 below 2009 and 2010 levels, respectively. UVA claims to be the first institution to calculate its nitrogen footprint and set a reduction goal.
Patrick Hogan, the University of Virginia's executive vice president and chief operating officer, said: "Expanding renewable, solar energy in the mix of options the University of Virginia is using will make even bigger strides in our efforts to be efficient, green and sustainable. The University is pleased to be working with Dominion Energy in yet another venture."