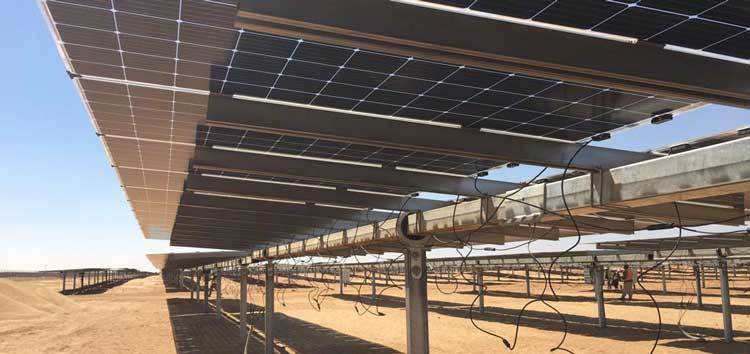 The decision by the European Bank for Reconstruction and Development (EBRD) to co-finance 400MW of bifacial solar in Egypt rests on a belief in its potential, the institution has said.
"We see a lot of potential during the next few years for deploying bifacial modules in the context of the Middle East, where resources are excellent and conditions are suitable for such modules," said Ahmad El Mokadem, principal banker at the EBRD, when contacted by PV Tech today.
"We see a lot of interest in using bifacial modules from renewables investors focusing in the MENA region," he added.
El Mokadem's remarks come as Scatec Solar ramps up work to build 400MW of bifacial PV at the Benban complex in Egypt. The projected six 50MW plants are backed with US$330 million from the EBRD itself, the Green Climate Fund and a host of other development financiers.
"We expect the six projects to start operating by the end of the year, latest first quarter of 2020," El Mokadem said.
Conservative yield projections to mitigate risks
El Mokadem wouldn't disclose the exact costs of the bifacial panels being installed but acknowledged the price tag is typically higher than with their monofacial counterparts. In a high-reflection PV environment such as Egypt's sandy deserts, he said, the expected benefits are significant. "Bifacial allows using both sides of the solar panel, capturing irradiation and reflections from the ground and adjacent panels," he noted.
Despite the optimistic outlook, El Mokadem conceded bifacial PV is not a risk-free venture for investors at this stage. "Using both sides might lead to panel overheating," he pointed out. "Much testing has been carried out to mimic what would happen but ultimately, unlike with monofacial panels, you don't know how the panels will perform with time."
Quizzed over how the EBRD made itself comfortable with risks, El Mokadem cited Scatec – "they are one of the main reasons why we were able to support such technology at this stage," he said – and what he described as "very conservative" estimates on energy yields in the contract.
The bank, El Mokadem explains, relied on technical advisers for power modelling. Asked about the decision by other investors to finance bifacial only against front-generated – not back – power, the principal banker replied: "That is very similar to what we did."
See here for more background on the EBRD-backed Scatec 400MW PV pipeline in Egypt