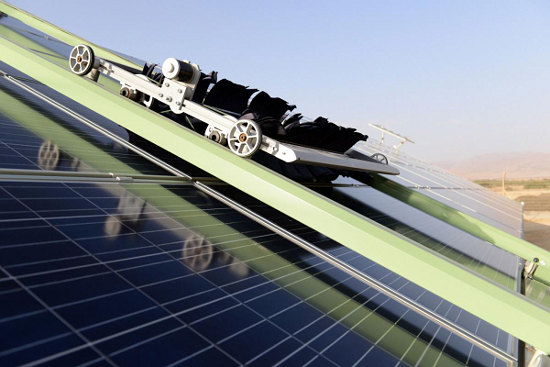 Robotic and water-free solar panel cleaning solutions provider Ecoppia has deployed its E4 cleaning robots at a 40MW solar plant on the Israel Jordan border.
The Ketura Solar facility, in the southern Arava desert between the Gulf of Aqaba and the southern tip of the Dead Sea, is jointly-owned by EDF Renewable Energy and Arava Power.
The site, near to agricultural sites that generate large quatitities of dust, faces frequent sandstorms and little if any rain. The automated and waterless cleaning solution of Ecoppia is made for such a location. A company release said that immediate recovery from sandstorms is critical to maintaining the facility's LCOE.
Eran Meller, chief executive of Ecoppia, said: "We're pleased to bring the experience gained over four years of cleaning in multiple sites in the Middle East to this important facility in the region. Cleaning 80 million solar panels in the harshest desert conditions globally, we expect to continue to play a leading role in this growing market."
Ecoppia now has more than 300MW worth of deployments and claims to clean 10 million panels each month.
The firm recently reached an agreement with Solairedirect India, subsidiary of energy multinational Engie Group, to provide its automated systems within the Bhadla Solar Park in India.