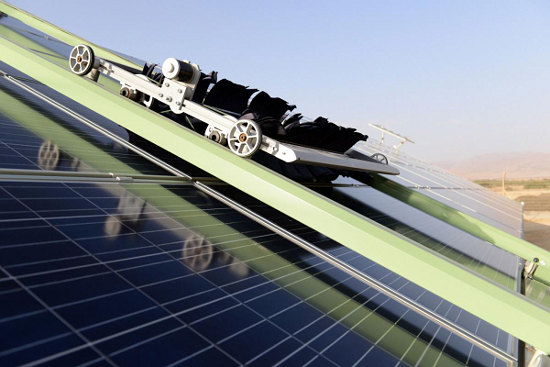 Ecoppia, developer of fully autonomous, water-free PV panel cleaning solutions, has been chosen by Fortum to deploy its platform across multiple projects in India, totaling 427MW of production capacity.
As part of this deal, Ecoppia will equip Fortum-developed projects at the Pavagada and Bhadla solar parks with its connected E4 solution. Ecoppia has already established quite a footprint within the Indian subcontinent, deploying nearly 2GW in production capacity in that region alone, while also boasting over 7GW in secured projects globally.
The E4 robot developed by Ecoppia for fixed-tilt solar installations supports both framed and frameless panels, while also adding no additional load to the panel surface. The cleaning solution, which was certified by First Solar, will be used to clean both crystalline modules and frameless modules at Fortum's sites.
Sanjay Aggarwal, managing director, India, at Fortum, said: "As we in Fortum drive the change towards a cleaner world, the Ecoppia water-free solutions are a perfect fit with our strategy. Now, we will be able to provide clean energy without exhausting water resources – ensuring solar energy production is both cost-effective and truly environment friendly. This is a natural next step towards sustainable & clean development, a joint vision shared with our partners UKCI (UK Climate Investments) & EAB (Elite Alfred Berg)."
Eran Meller, CEO of Ecoppia, added: "It's a great honor to extend our successful collaboration with Fortum to additional projects. We see Fortum as a true and visionary partner in advancing the solar industry towards full automation and lower, viable LCOE."