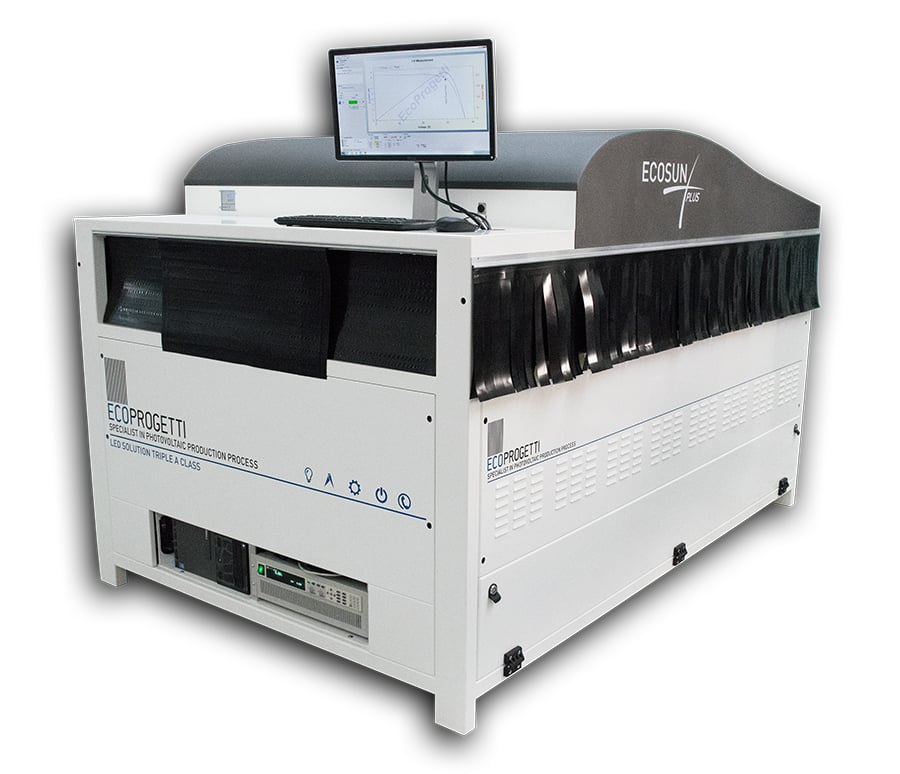 Ecoprogetti has launched its latest innovative sun simulator with LED technology in A+A+A+ Class certified and verified by TÜV. The newest levels in A+A+A+ of uniformity, stability and repeatability are the most advanced available in the market, according to the company. Ecosun Plus is the solution for precise and reliable I-V Curve tests of both standard PV modules and mainly for testing all new high efficiency cells technology in PV modules.
Problem
Performing the measurement of the power and I-V Curve of the PV modules is extremely important to warrant to the final customer the quality of the modules. Testing the PV modules with Ecosun Plus technology enables the user to obtain reliable testing results and to guarantee to the customers a high quality power measurement, being aware about the 'real value' of the modules. All PV modules needs to be tested and sorted accordingly to their power output, Ecosun Plus with its embedded software allows to define and sort the PV modules accordingly to their correct energetic classification.
Solution
Ecoprogetti's Ecosun Plus, thanks to its advanced LED technology has several advantages and innovative features compared to all other sun simulators in the market, such as xenon-lamp ones or old LED generations. The tester uses LED light source with a 40million pulses lifetime with no spare part costs with long pulse capabilities: 2-5s customizable up to 30s and more. There is no recharging time between tests, improving productivity. The system deploys a Calibrated pyranometer for accurate irradiance measurements. The system has a non-uniformity constant less than 1% due to LED light source.
Applications
PV module testing for all new high efficiency cells technology such as PERC, HIT, MWT, Bifacial, Back-Contact and Hybrid-Silicon Solar Cells.
Platform
Ecosun Plus is provided with own developed software with advanced data management features, installed in the PC and included in each machine. Thanks to the traceability of every measurement and to the SQL database data storage, embedded in the machines' PC or directly in customer's server, it is easily possible to store each measurement and to generate reports. The included bar code reader simplifies the testing process and data reading. Ecosun Plus is provided with remote internet connection to permit a quick service and assistance by Ecoprogetti's technicians. Ecosun Plus's LED technology is already used in many PV module production industries and also in laboratories for testing the efficiency of the modules. Its compact size fits also small spaces, and it can be customized also with larger or smaller illuminated areas.
Availability