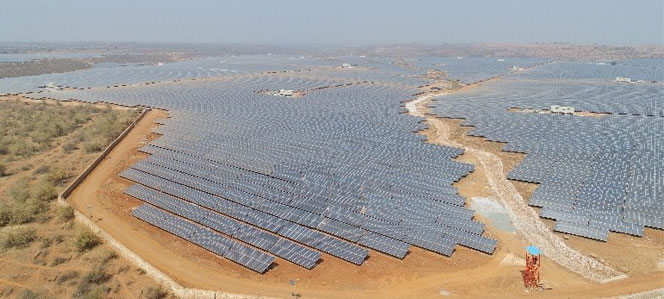 Having officially founded the Internarional Solar Alliance (ISA) over the weekend, French president Emmanuel Macron and Indian prime minister Narendra Modi have now also inaugurated French power giant Engie's 101MW Mirzapur solar project in the Indian state of Uttar Pradesh.
Engie was awarded the PV project, the largest in Uttar Pradesh, in May 2016 at a tariff of INR4.43/kWh (US$0.068/kWh) and it signed a 25-year PPA with Solar Energy Corporation of India (SECI) in June 2016.
The company, through subsidiary Solairedirect India, has also started commercial operation of 190MW of PV capacity at Bhadla in Rajasthan, which has a tariff of INR4.35/kWh (US$0.067/kWh), where the project uses dry robotic cleaning solutions from Ecoppia. Meanwhile, The French company also recently won 80MW of wind projects across Gujarat and Tamil Nadu.
Engie has now also signed a power purchase agreement (PPA) with Indian utility NTPC for its 338MW Kadapa solar project in Andra Pradesh, with a tariff of INR3.15/kWh (US$0.0485/kWh).
Isabelle Kocher, CEO of Engie, said: "It is an honour to welcome President Macron and Prime minister Modi to Mirzapur, one of our key assets in the country. This plant and the different successes we announce today support our ambition to be a major partner for the development of renewables in India, a fast-growing country for global energy transition businesses. Globally, Engie is committed to invest massively in low-carbon generation, one of the growth engines of the Group."
Engie has a total installed capacity of 810MW of solar and 80MW in wind in India and employs around 1,000 people in power generation, engineering and energy services. ENGIE was also among investors to have pumped US$20 million into Husk Power Systems, a developer of microgrids which is expanding its efforts in India and Tanzania.