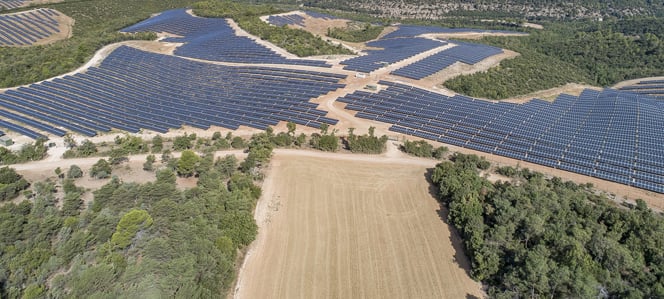 Engie, through its Solairedirect subsidiary, has inaugurated its largest solar farm in France, at Gréoux-les-Bains in the Alpes-de-Haute-Provence department.
The 82MW farm, which was commissioned in June 2017, covers an area of more than 180 hectares. It uses 300,000 solar panels and 50 inverters across two sites, Vallongue (88.5 hectares) and Coteau du Rousset (92.7 hectares).
It will produce 128GWh per year, the equivalent of powering around 85,000 people, not including heating requirements.
Engie currently has 900MW installed in France and is targeting 2.2GW by 2021.
This week France announced plans to invest €20 billion in its own energy transition plan to increase clean energy deployment by 70% over five years, while it has also moved to reduce connection costs for smaller-scale renewables by up to 40%.
In July, the energy ministry also awarded 507.6MW of PV to 77 developers in its second major large-scale solar auction, for projects ranging between 500kW and 17MW capacity.