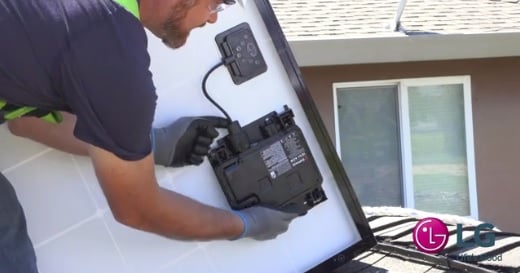 PV microinverter specialist, Enphase Energy reported a second consecutive quarter of a meaningful recovery in its shipments and revenue, due to the return of customers as its financial health continues to improve.

Enphase reported first quarter 2019 revenue of US$100.2 million, a 9% increase over the previous quarter and a 43% increase over the prior year period.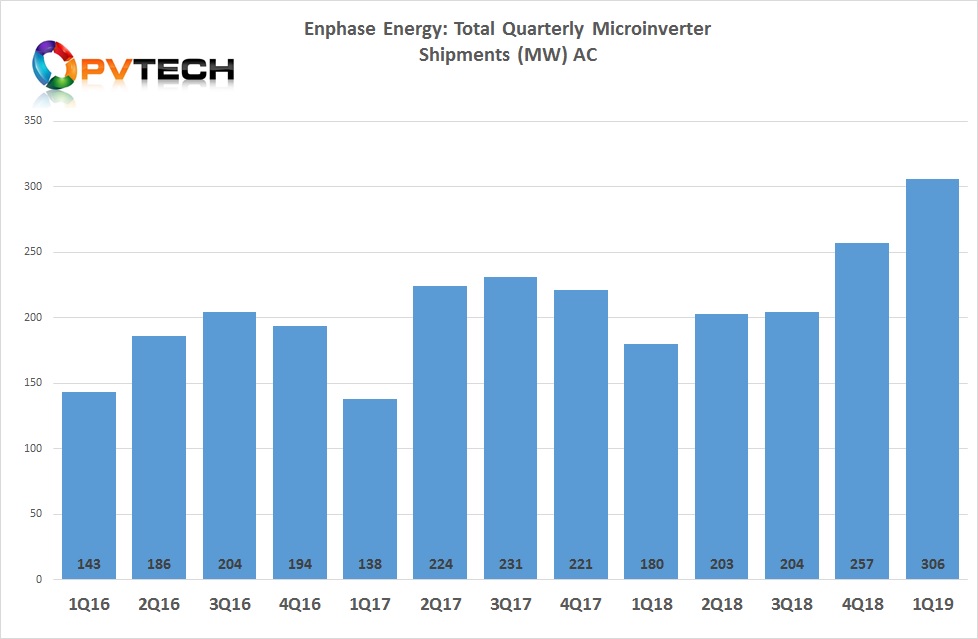 Despite being a seasonally weak quarter, the marked increase in first quarter revenue was driven by a broader customer mix, driven by increased confidence in the financial health of the company after several years of restructuring and rebuilding that has driven its cash position to US$78.1 million at the end of Q1 2019.

Badri Kothandaraman President & CEO of Enphase said in the earnings call; "Actually, 18 months back in page was in a very different place. The balance sheet was not in a great shape. P&L was hurting I think in the last 18 months with the hard work of a lot of people, we basically have done the corner. Our balance sheet is very strong now. We're starting to make money. So, our customers, a lot of the customers who were kind of nervous at that time to do business with us are now coming back. And most importantly our product innovation hasn't stopped even during the most difficult of times we introduced IQ 6 and IQ 7."
The company reported microinverter shipments in Q1 of 306MW (DC), equating to 976,410 units with its latest technology (IQ 6 and IQ 7 series) accounting for 99% of product shipments.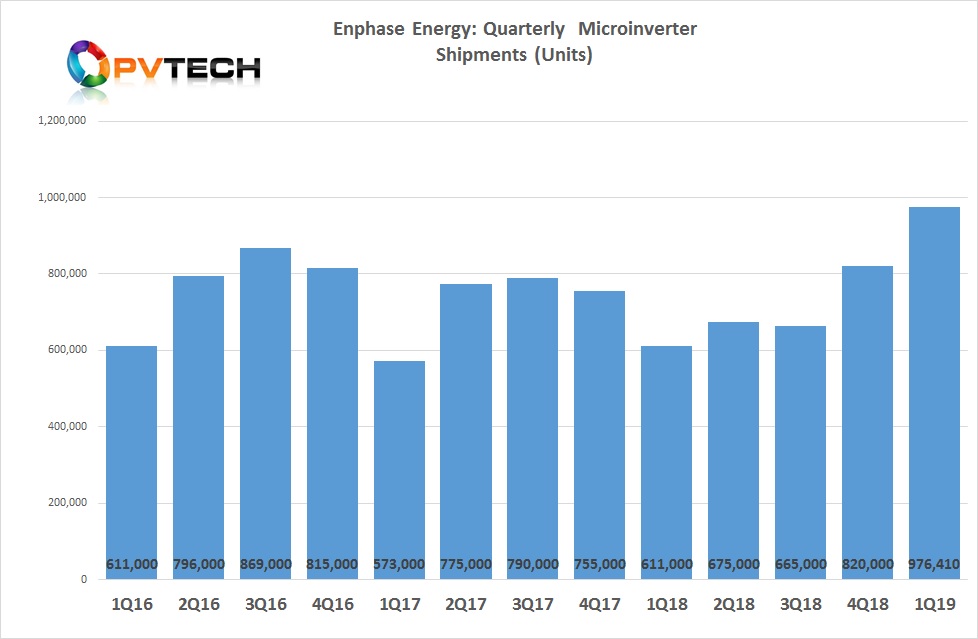 Management noted in the earnings call that around 94% of our microinverter shipments in the quarter were IQ 7 series, compared to accounting for 84% of shipments in the prior quarter.

The company said it was targeting to complete the transition of nearly all microinverters' shipments to the IQ 7 series by the end of the third quarter of 2019. Cumulative shipments have exceeded 20 million.
On a regional basis, Q1 revenue was again US centric, accounting for 78% of sales, while international markets accounted for 22% of sales.
US revenue increased 9% sequentially and 80% year-on-year, which also importantly included shipments of the IQ 7XS microinverter to new partner SunPower Corp.
SunPower is also expected to also integrate the IQ 7AS into its latest high-efficiency module the 66-cell NGT A series AC modules.
"We had fewer shipments of our IQ 7XS microinverters to SunPower in the first quarter compared to the fourth quarter," noted Kothandaraman in the call. "We worked with SunPower to ensure smooth product transition from their prior generation microinverters to IQ 7XS as they began ramping. As previously announced, we expect an acceleration of the ramp in the second quarter and throughout 2019."
However, Enphase remains capacity constrained due to component shortages, primarily high voltage power transistors, an industry wide problem that is not expected to ease until 2020 onwards.
The company has a new supply deal in place and noted that this would enable a microinverter capacity/availability of 2 million microinverters in the fourth quarter of 2019, reducing microinverter lead times to approximately 6-8 weeks.
Enphase guided second quarter revenue to be in the range of US$115 million to US$125 million.