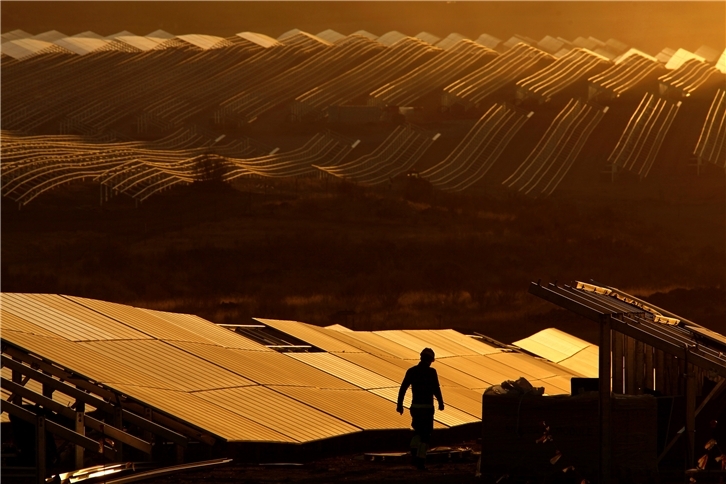 Europe's solar industry has said support for vertically-integrated PV manufacturing and downstream deployment must be included within the continent's solar strategy ahead of its unveiling tomorrow.
The European Commission is set to unveil its long-awaited 'Solar Strategy' document tomorrow (18 May 2022), building on from its revamped REPowerEU plan to tackle Europe's converging energy and climate crises.
The plan is months in the making and has been drawn into starker focus in recent weeks following Russia's invasion of Ukraine. Solar looks set to play a dominant role in Europe's future energy landscape, with various targets for deployment having been made of late.
PV Tech has spoken to numerous industry stakeholders ahead of the strategy's unveiling to determine just what the industry is calling for.
Addressing demand
SolarPower Europe has called for major permitting and education reform as part of the European Commission's (EC) new REPowerEU strategy, due tomorrow, which has been updated to reflect Europe's new energy politics following Russia's invasion of Ukraine.
Raffaele Rossi and Christophe Lits, co-authors of SPE's Global Market Outlook report for 2022-2026, spoke with PV Tech at last week's Intersolar and said that the number one obstacle to greater solar deployment in the EU was permitting bottlenecks, pointing to Spain and Portugal as prominent examples.
They welcomed recent reports that the EU is considering speeding up the permitting process by establishing "go-to areas" for renewables deployment but said more was still needed behind the scenes in order to have the staffing and processing power necessary for the energy transition.
A number of developers spoken to by PV Tech, also at last week's Intersolar Europe industry event held in Germany, stressed similar concerns, noting Spain as a particular example where discrepancies in attitudes towards renewables between national government and municipalities was creating confusion and headaches within the planning envelope. Spain, which has witnessed significant PV buildout in recent years, has fallen down the list of interesting markets for many developers on the continent.
Similarly, and the second most important issue the new strategy needs to address, is Europe's skill shortage at the permitting level but also the installation level, said SPE's Rossi and Lits. They noted how a lack of skilled installers was causing quality issues with projects, which can damage investments and lead to increased local opposition and nimbyism.
"The Commission is aware of this and they're working on addressing this issue in a broader package for skills," said Rossi, adding that SPE is also developing a graduate support scheme for solar skills in the energy transition.
Elsewhere, SPE is "confident the new strategy will be strong on manufacturing" based on feedback from policy makers and will include some of SPE's manufacturing proposals as well as a bespoke rooftop solar strategy, which the trade body has been pushing for, for years.
SPE has called for Europe to invest heavily in rooftop solar as part of its eight-point plan to reach 1TW of solar PV by 2030, a target already supported by five member states, which also urges the bloc to reinvest in domestic manufacturing by launching a €1 billion (US$1.1 billion) 'Solar Fund'.
Finally, Rossi and Lits said that individual member states needed to increase their targets in line with the EU as a whole. They said some states' targets were unambitious and many had already hit their 2030 goals as they called for upgraded National Energy and Climate Plans (NECPs).
"The revision of the NECPs is taking place in 2023 and when we carried out an analysis of the solar ambitions in the region in 2019/2020, there was a general lack of ambition," said Rossi. "Some member states have now already achieved their 2030 numbers, which means that in most cases this needs to be revised significantly upwards."
SPE has aggregated all current solar commitments and found they totalled an "underwhelming" 335GW by 2030, well below the 1TW it is calling for. Leaked versions of the REPowerEU draft, seen by PV Tech and reported last week, suggest a target of 300GW by 2028 and a secondary target of up to 500GW by 2030 are to be announced tomorrow – a figure which would require a marked acceleration from member states, but also falls significantly short of the ambition called for almost universally.
Incentivising manufacturing
One of the major constraining factors for solar deployment in the coming years could, of course, be the supply of modules. Manufacturing capacity expansions in China, especially at the polysilicon level, are failing to keep up with exploding demand and while other leading markets such as the US and India have either implemented or proposed incentives to stimulate domestic manufacturing, the EC has yet to do the same.
This is a stumbling block that the Commission could and should rectify within its Solar Strategy, said Justin Lee, president at cell and module manufacturer Qcells. Speaking at a press event on the fringes of Intersolar Europe 2022, Lee said that the existing plans for domestic manufacturing in Europe are "just not ambitious enough" to stimulate the kind of manufacturing renaissance on the continent.
SPE intends for there to be at least 20GW of domestic solar manufacturing capacity in Europe by 2025, but with deployment intended to be many times that figure, that would still equate to an unequivocal reliance on imports from Asia.
The issue here, Lee said, crosses both incentives and manufacturing output. To start, there has yet to be much consideration for manufacturing capacity away from the cell and module, with materials such as metallurgical grade silicon, glass and encapsulants such as EVA all in short supply in Europe. Without a fully integrated supply chain, where European module makers can procure made-in-Europe glass, EVA, steel frames and so on, competitive advantage will still reside elsewhere.
Secondly, Lee stressed that regulators must get real on the incentives required for manufacturers to establish major capacity within Europe's borders, drawing parallels with proposals within US Senator Jon Ossoff's Solar Energy Manufacturing for America Act which intends to provide a tax credit for each unit of polysilicon, ingot, wafer, cell and module made in America. Without a similar incentive in Europe, manufacturing will struggle, Lee said.
Not every manufacturer and stakeholder shares this view. Dr Peter Fath of Turkey-based manufacturer Kalyon, which operates Europe's largest existing PV manufacturing centre near Ankara, presented at Intersolar's industry conference as to how a hypothetical 5GW integrated factory in Europe could be built with a total investment of around €550 million and, crucially, produce solar ingots, wafers, cells and modules at a total cost of around US$0.227/Wp – within a competitive distance of average production costs in China of US$0.215/Wp. The key to arriving at those figures is, as Fath presented, vertical integration – therefore any strategy the EC demonstrates must address manufacturing away from the cell and module if it has any chance of succeeding.
There are other levers the EC could pull to shift demand to European-made products, including a continent-wide application of carbon footprint requirements that have been successfully applied in France. Frank Niendorf, general manager for Europe at JinkoSolar, told PV Tech such a plan could be a "win-win" for the industry, given its potential to incentivise Asian manufacturers to pay more attention to that figure while offering a more level playing field.
Niendorf's broader hope for the strategy, however, is that it does not introduce any kind of import tariff – Europe's minimum import price still living long in the memory of those subjected to it – that could block imports into Europe.
"We cannot work without Asian supply. That's impossible. It will take years to build up local European production and to quickly ramp up 50GW of local production is probably unrealistic," Niendorf said.
Time is, evidently, of the essence and the Commission faces a delicate balancing task of delivering on the expectations from a broad spectrum of stakeholders. What is abundantly clear, however, is that the status quo is insufficient for Europe to realise its PV potential, and far greater ambition is required.