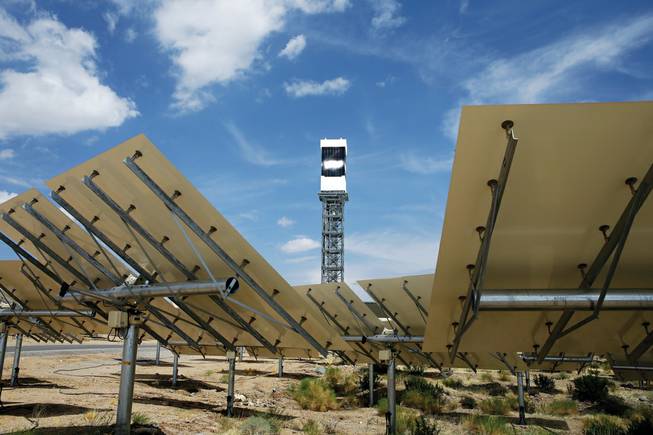 One of the three towers the 392MW Ivanpah concentrated solar power (CSP) plant is out of action after suffering damage due to a small fire on Thursday morning.
The plant is located on the California-Nevada border near Primm and sustained sufficient damage to now be operating at only a third of its capacity, according to authorities.
The CSP facility uses more than 300,000 mirrors that extend over around five square miles of desert and focus sunlight on boilers atop 459ft thermal power towers to create electricity. The fire has been blamed on misaligned mirrors that focused sunbeams at the wrong area; causing electrical cables to catch fire, according to the San Bernardino County fire department, who arrived at the site after reports of visible flames from the Unit 3 tower near the ninth floor.
Plant personnel fortunately had the fire out by the time the firefighters reached the site. The tower is offline while the damage is assessed and the exact cause is under investigation. Under normal operational conditions, the US$2.2 billion complex provides enough power for 140,000 Californian homes, according to the company.
At the moment, it is unclear when the tower will be back online and what the wider implications for California's electricity supply will be; particularly given the state's recent energy travails after the four-month long methane leak at Aliso Canyon caused serious blackout concerns.
Fire Threatens Solar Facility Near Stateline. https://t.co/kKhjtxyi0o pic.twitter.com/5fa6pToua7

— SB County Fire (@SBCOUNTYFIRE) 20 May 2016
This comes as another blow for CSP; particularly in light of Spain's Abengoa, a CSP specialist, enduring arduous bankruptcy proceedings. In addition, earlier this year, the 500MW Palen plant was written off by the California Public Utilities Commission (CPUC).