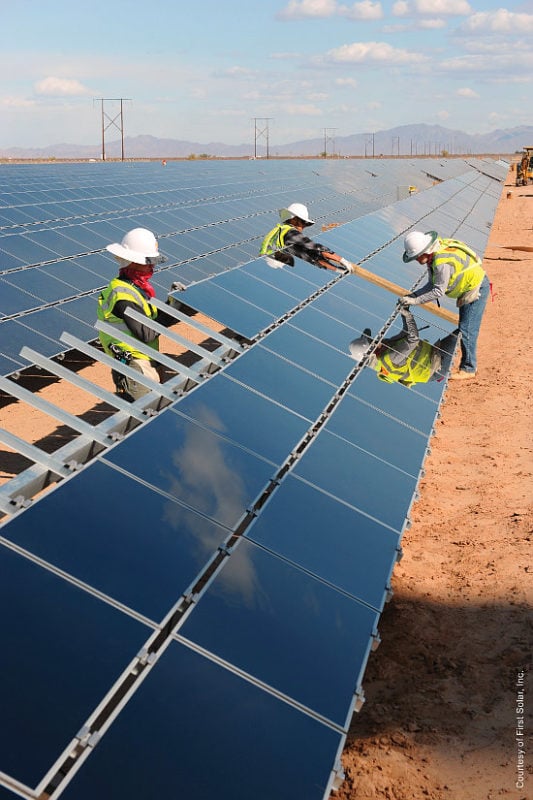 First Solar and offtaker NextEra Energy have officially commissioned the 250MW Silver State South PV project.
The facility, built by First Solar and owned and operated by NextEra will provide power under a 20 year agreement to utility Southern California Edison.
"Nevada has plentiful sunshine, and with the Silver State South Solar Energy Center we are harvesting that valuable resource for the benefit of everyone in this region," said Armando Pimentel, president and CEO, NextEra Energy Resources. "From the jobs and tax revenue it is creating, to the clean energy it will generate over the next 30 years, this is a project that all can take great pride in."
"First Solar's PV technology is setting the standard for generating affordable, clean energy," said. "By continuously driving down the cost of solar electricity and providing a solution that addresses energy security and water scarcity, we are delivering on our commitment to build a more sustainable energy future," said Tymen deJong, COO, First Solar.
In a drought-stressed region of the US, responsible for a third of the world's water consumption for power generation, this issue is a particular boon.
The companies also claim the project will generate US$78 million in property taxes for the local area, Clark County.
"This project has provided good jobs for Clark County residents, and positive economic activity for local businesses," said Clark County Commissioner Marilyn Kirkpatrick. "The investment in Nevada's workforce has had a great positive impact on the Nevada economy."