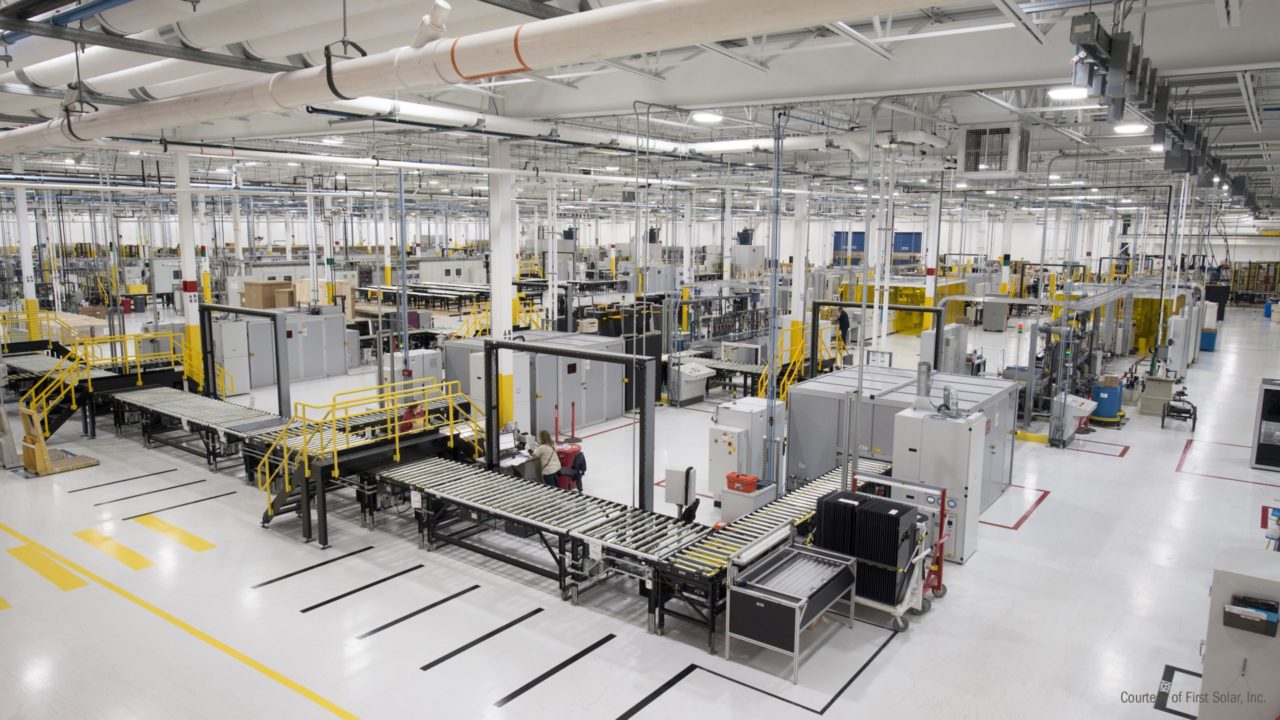 Leading CdTe thin-film module manufacturer First Solar is increasing its shipment guidance for 2018, due to plans to bring back online 180MW of mothballed Series 4 module capacity at its Perrysburg, Ohio manufacturing facility.
In reporting fourth quarter and full-year 2017 financial results last week, First Solar management highlighted that a decision to restart 2 idled production lines in Perrysburg, due to increased demand for its modules, would result in shipments of around 3.1GW, up from previous guidance of 2.7GW to 2.8GW.
The increased demand for its Series 4 modules comes after thin film-based solar modules were excluded from the recent 30% import duty slapped on imported crystalline silicon cells and modules by US President Trump. First Solar is also in the middle of a major transition to its large-area Series 6 modules, restricting production, despite postponing the transition at one of its two manufacturing plants in Malaysia.
The company also highlighted that capital expenditures in 2018 would also be increased to a range of US$700 million to US$800 million, compared to previous guidance of US$650 million to US$750 million. PV Tech has a detailed analysis of the latest developments in the Series 6 transition and increased capex through 2020, here.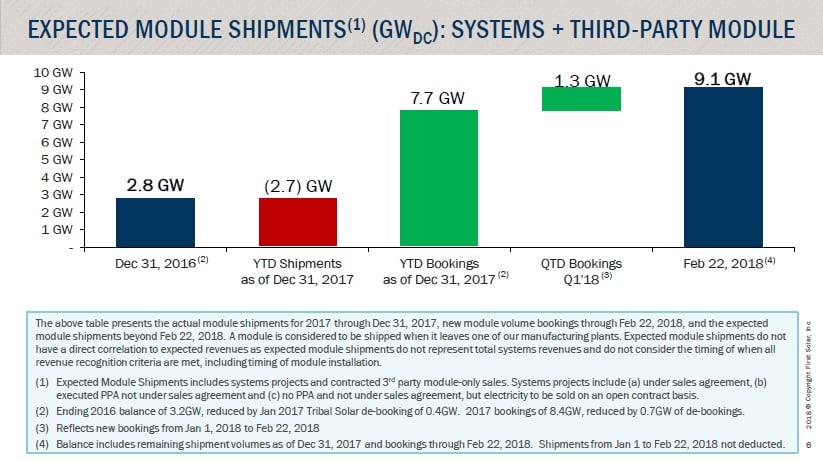 Financial results
First Solar reported net sales for the fourth quarter of 2017 of US$339 million, a significant decrease of US$748 million from the prior quarter primarily due to lower PV plant systems and third-party module sales. The company also remained capacity constrained in 2017, so lower module shipments were expected in the quarter.
The company reported that its Systems segment revenue decreased primarily due having achieved the sale of the California Flats and Cuyama projects in the third quarter of 2017.
Sales were lower than guidance, due to push-outs in project sales in India, which were said to close sometime in 2018.
First Solar reported a gross margin decline to 18% in the reporting quarter from 27% in the previous quarter, due to the low gross profit in projects realized.
Excluding restructuring and asset impairments, First Solar reported an operating loss of US$37 million in the fourth quarter of 2017, compared to an adjusted operating profit of US$208 million in the third quarter.
The decrease was partially due to lower net sales and higher production start-up expenses, due to tool installations and first modules produced at its Ohio facility for its Series 6 large-area modules and tools delivered to one of its facilities in Malaysia.
Adjusted operating expenses, which exclude restructuring and asset impairment charges, were US$99 million in the fourth quarter, an increase of US$15 million compared to the previous quarter as higher production start-up costs kicked-in as the Series 6 module transition built momentum.
Net working capital in the reporting quarter decreased by US$457 million, due to a decrease in accounts receivable from module and systems collections, including final payments on the Switch and Cuyama Projects.
The company had total debt at the end of the fourth quarter of US$394 million, an increase of US$50 million from the prior quarter, due to issuing project level debt to fund ongoing medium-scale utility projects construction in Japan and Australia.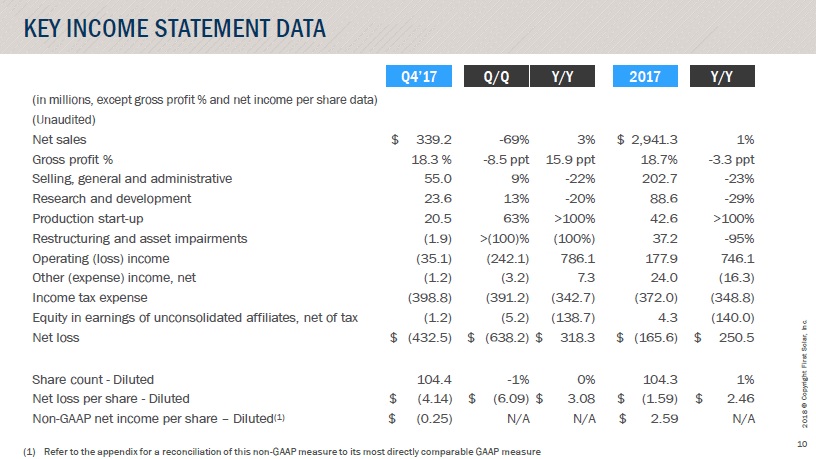 2017 financial highlights
First Solar reported full-year 2017 sales of US$2.94 billion, a 1% increase over 2016. For the full year, gross margin was 19%.
The company reported 2017 adjusted operating expenses of US$334 million. The company cut R&D expenditure and R&D headcount as well as its overall workforce, when combined accounted for US$95 million in SG&A expenses.
Cash and marketable securities at the end of the years was almost US$3 billion, an increase of US$270 million from the prior quarter. Net cash position increased by US$220 million to nearly US$2.6 billion and higher previous guided, aided by downstream PV project timeline changes and higher advanced module payments.
Module bookings in 2017 reached 7.7GW (DC) versus shipments of 2.7GW (DC).
Having had module shipments impacted by the Series 6 manufacturing transition, First Solar dropped out of PV Tech's Top 10 Module Manufacturers rankings in 2017, for the first time.
However, management noted that since the start of 2018, an additional 1.3GW of modules had been booked, taking total future contracted business to 9.1GW (DC).
2018 Guidance
First Solar said it expected net sales in 2018 to be in the range of US$2.45 billion to US$2.65 billion as the transition to Series 6 continues to reach a peak and capacity constraints persist.
Gross margins will be slightly impacted due to the transition as the company guided gross margins to be in the 21.5% to 22.5% range, down from previous guidance of 22% to 23% range.
Module shipments are expected to be in the range of 2.9GW to 3.0GW (AC) as the 180MW of extra Series 4 modules is a positive to previous guidance that did not include the re-start of the two production lines in Ohio.