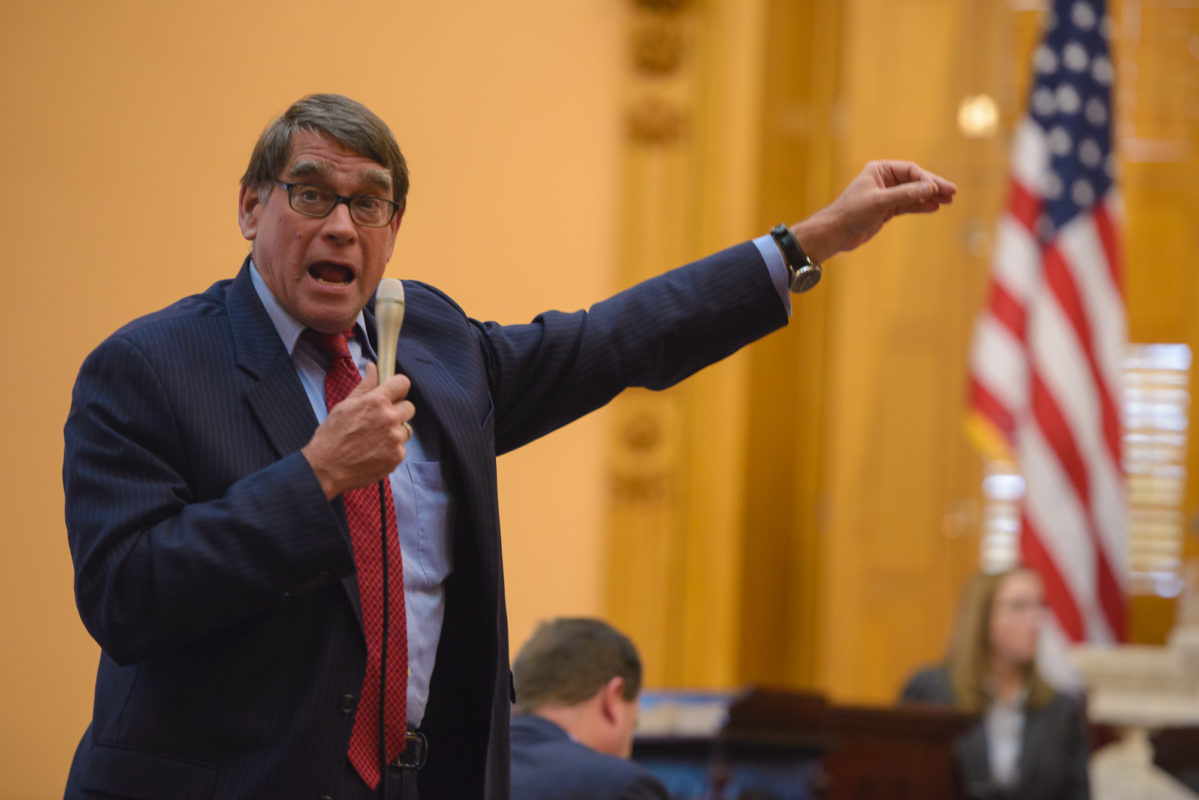 Whilst the future of Ohio's clean energy standards might lie in the hands of governor John Kasich, recent research by watchdog industry group Energy and Policy Institute (EPI) reveals that fossil fuel and utility interests have been pulling the strings behind the freeze on Ohio's clean energy standards.
Bill HB 554, which seeks to extend voluntary compliance with state targets for 12.5% of the energy mix to be sourced from clean sources by 2025 for another two years, was backed by utilities and 'polluter' lobbyists who bank-rolled the campaign to influence lawmakers in Ohio.
The ramifications of the current freeze on the Buckeye State's clean energy standards are serious; as it has the power to effectively eliminate the mandates altogether. Energy and Policy Institute have reported a number of utilities that have paid lobbyists to advocate for the bills in what could be a concerted attack against renewables deployment.
These utilities include NRG Energy, NextEra Energy Resources, Exelon, Duke Energy Dynegy and American Electric Power. In addition, several major fossil fuel companies have lobbied for the passing of the bill, including ExxonMobil (the CEO of which is Trump's new secretary of state), Marathon Petroleum Corporation and Murray Energy Corporation.
In addition, emails have surfaced that "confirm the influence of utility and industry lobbyists and fossil fuel-funded special interest groups over the controversial 2015 Energy Mandates Study Committee report that led to the introduction of companion bills – HB 554 and SB 320 – to extend the freeze," Dave Anderson of the Energy and Policy Institute told PV Tech.
EPI states the emails "confirm the undue influence" of lobbyists to extend the freeze.
In an email dated 18 August 2015, addressed to several Republican state policymakers and 10 industry lobbyists, Ohio Senator Bill Seitz suggested that "we should be meeting as a small group to figure out what that report is going to say". The report being the Energy Mandates Study Committee (EMSC) report that initially recommended the indefinite extension of the freeze on clean energy standards, one month after Seitz sent his email.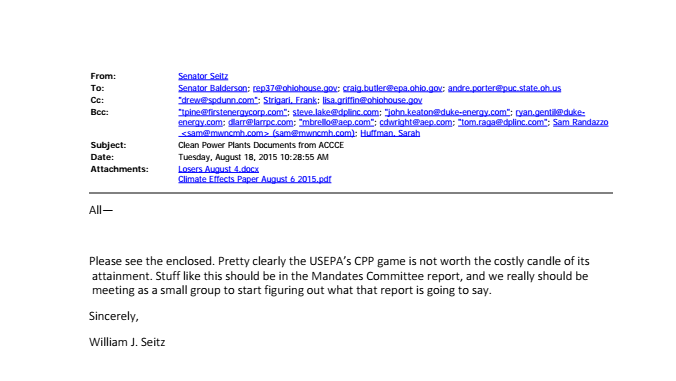 In addition, Seitz sent an email to other lobbyists including American Electric Power and FirstEnergy, canvassing their opinion on how to replicate a bill in Michigan designed to roll back its clean energy standards.
Undue influence?
Prior to the commissioning of the report, lobbyists from Duke Energy met with members of the EMSC committee and Seitz was also known to meet with other lobbyists to discuss the contents of the report, as evidenced by his email.
The final version of the report that led to the bills was based on another report penned by a Koch-funded institute, making a "biased and flawed economic case" against the mandates, claims EPI.
According to Ohio campaign finance data, the members of the EMSC have collectively received US$830,000 from utilities and fossil fuel companies in funding for their 'anti-mandates' campaign.
Therefore, the bills have received a significant amount of support from investor-owned utilities (IOUs) and other campaigners against renewables. Seitz himself has been seen to present anti-wind sensibilities, as evidenced by his involvement in halting a proposed state wind project in 2015.
As for the future of solar in Ohio, the state boasts a modest effort; with 119MW installed as of last year – and ranking 23rd in the nation, according to data from the Solar Energy Industries Association (SEIA).
If Kasich chooses to approve the bill, he could put a premature end to a burgeoning solar industry.