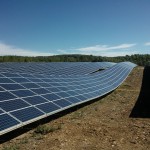 France installed 8,374MW of solar PV capacity as of 30 September 2018, but is set to miss its target of 10,200MW by the end of the year, according to data from Electricity Transmission Network (RTE).
The country deployed 213MW of solar PV in Q3 2018, while 1,113MW was connected over the rolling year up to the same date.
RTE said that the transmission and distribution networks continue to evolve to allow the integration of renewable electricity generation with an eye on the target of a 20% share of renewables in the electricity mix by 2030.
Wind deployment reached 14,288MW on 30 September, with 315MW connected in Q3.
The data also came from the Union of renewable energies (SER), Enedis, the Association of electricity distributors in France (ADEeF) and the agency of energy network operators (ORE).
Recently, 16 solar projects were awarded in France's experimental 200MW mixed energy auction for solar and onshore wind, with an average tariff price €54.94/MWh.