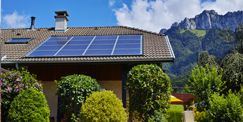 France plans to invest €20 billion in its own energy transition plan to increase clean energy deployment by 70% over five years, while it has also moved to reduce connection costs for smaller-scale renewables.
Under France's so-called 'Great Investment Plan 2018-22', €7 billon would be invested in renewable energy, €9 billion in energy efficiency and €4 billion in the switch to electric vehicles.
The investments will go towards R&D in renewables, phasing out 10 million old vehicles and bringing thermal insulation to low-income and social housing. Other key investment areas in the wider Investment plan for France include skills development, digitalisation and innovation.
In related news, energy minister Nicolas Hulot has announced that the government will decrease the costs of connection for small and medium-sized renewable energy installations and biogas onto the network by up to 40% depending on the size of any single project.
Such tariff reductions have been the preserve of consumers and network operators until now.
Smaller-scale systems will receive the most benefit as France wants to incentivise the shift towards the self-consumption model, for which it launched major tenders earlier this year.
EDF ENR, a subsidiary of France-based EDF Group, had also this summer launched a collective self-consumption product targeting joint-ownership associations, housing associations and vertical housing, that wish to produce their own electricity.
Sébastien Lecornu, secretary of state to the minister of state, minister of ecological and solidarity transition, said: "A total of almost €30 million per year will be devoted to the deployment of renewable energies, more than half of which will be used for small-scale agricultural installations. The State thus marks its will to support the anchoring of the energy transition at the local level, a real lever for development and attractiveness for our territories."