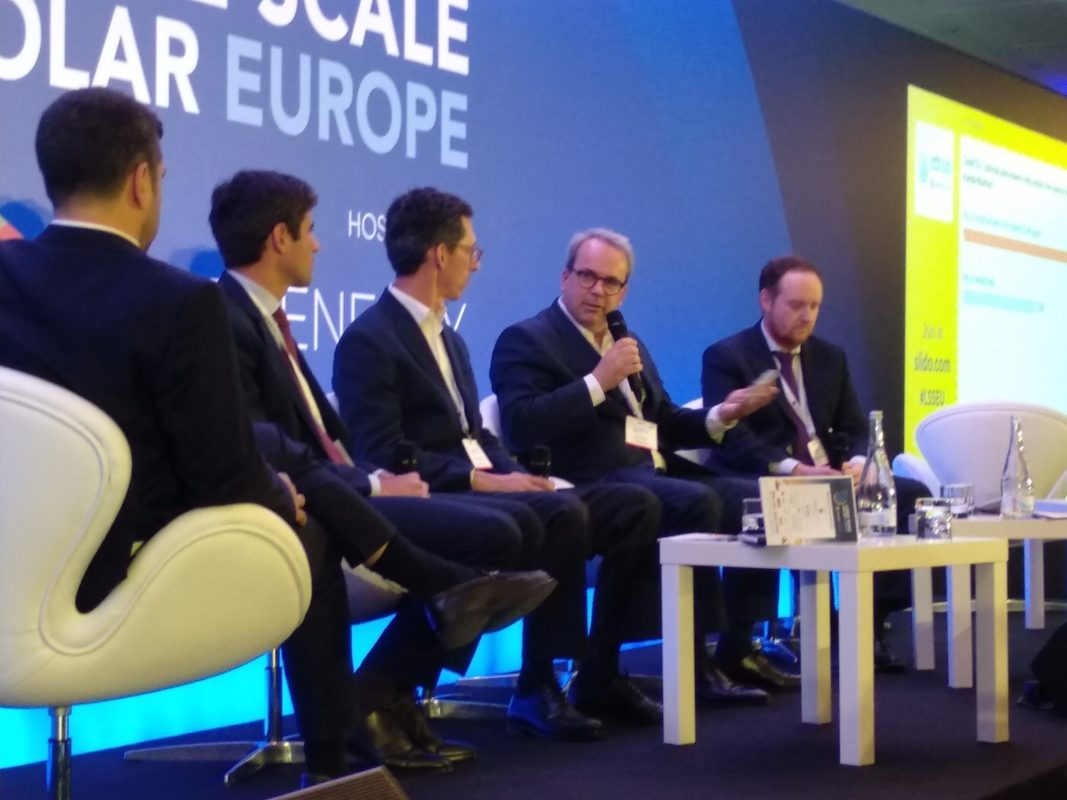 Delivering European projects at scale and speed without subsidies will require a sophisticated, integrated, data-savvy new solar player, according to industry operators speaking at the Large Scale Solar Europe summit.
"To be competitive in a subsidy-free world, we need to have more competencies, become more sophisticated at the valuation stage," said João Macedo, Portugal head at Akuo Energy, as he addressed the event on 26 and 27 March at Lisbon's Pestana Palace.
"Solar is about volumes and speed, how fast you can turn around your project," was the view of Guy Auger, CEO at Greensolver. "There is a lot of investor money out there so you see developers adapting to each market, going for what reduces risks first."
For some, the adjustment to a subsidy-free reality has come via integration, diversifying beyond the strict IPP remit of the past. "What we learn from our other activities feeds into early-stage development," said Pablo Burgos, general manager and co-founder of Solarpack. "Development teams must understand the entire process, from construction to operation and sale on an asset management basis."
Smarter land planning
As PV projects balloon in size, industry speakers felt the need for sophistication must extend to land planning. Panellists noted the varying local realities for the procurement of sites, with purchases tough to pull off in some countries and leased arrangements not an option in others.
In France, said Auger, developers are now moving to buy "huge" sites – even if it is farming land, barring the project from auctions – to then follow years later with a PPA and the addition of storage. "We see a lot more intelligence," he remarked. "People understand the electricity market better and plan around it."
A keen eye on land uses can also turn the odds in a developer's favour. "In Portugal, for instance, it can be very difficult to develop solar in farming land but there are ways you can combine," said Akuo's Macedo. "Look at agro-synergy – it would make sense for example to integrate floating solar in irrigated agricultural land."
Alliances with storage, floating solar
Breathing new life into partnerships with storage could help, as it turns out, facilitate the success of subsidy-free solar. As noted by Berto Martins, deputy director for energy markets at EDP, Portugal will have a need for storage and smart grid management to mitigate "imbalances" caused by the roll-out of renewables; how this flexibility will be remunerated must be thought through, he added.
Doubts on the commercial viability of European solar-plus-storage were apparent throughout the two-day conference, with live polling finding large-scale success is not a scenario people anticipate in the next five years. PPAs catering to this modality of co-location may be slow in coming, it was said at one of the panels.
Another technological newcomer joining the Lisbon spotlight was floating solar. Bard Johansen, CFO of specialist Ocean Sun, updated attendees on the firm's cost-cutting efforts as it works to become commercially viable by year-end. "Panels are today a third of all costs for our floating systems," he said. "It's a commodity so there's not much you can do so we're trying to bring other costs down."
Data dilemmas
Whoever they partner with, zero-subsidy developers were advised by the Lisbon speakers to keep a sharp eye on operations by tapping into data. Asked to pinpoint the key revenue-increasing innovation going forward, various panellists pointed at analytics on short-term production forecasts and tracker technology.
"We've been talking digital transformation and the key point is to understand how much value data can bring at what cost," said Ezio Ravaccia, CFO at Solar Ventures. "We need to dig into the numbers, into our income and revenue, more than in the past. We come from a world where it used to be easy but now it's more professional."
See here for more information on the Large Scale Solar Europe conference, held in Lisbon on 26-27 March 2019