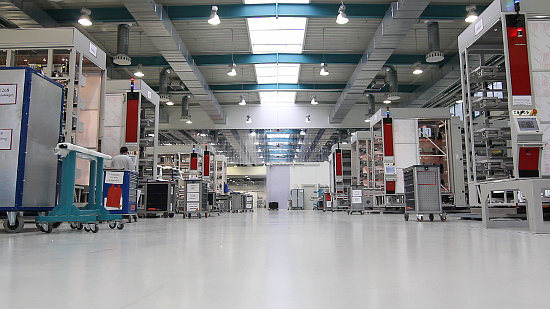 German-based trade association VDMA Photovoltaic Equipment said that manufacturing equipment orders received by around 100 members increased by 86% in the fourth quarter of 2015, marking a major rebound in purchase orders.
The strong increase in order intake in the fourth quarter of 2015, followed a 44% increase in the previous quarter driven by planned large-scale capacity expansions not only in Asia but also from the US, according to the VDMA.
Dr. Peter Fath, Managing Director of RCT Solutions GmbH and Chairman of the Board of VDMA Photovoltaic Equipment said, "The German Photovoltaic Engineering experienced a significant upswing this year [2015]. Investments come currently not only from Asia but also from the American market. Key customers plan their future production expansion with a significantly higher volume than in the past."
The export quota for German-based PV suppliers was around 85% in 2015, with South East Asia accounting for 59% of the exports in fourth quarter of 2015.
However, the US accounted for almost 21% of revenue in 2015 for German suppliers, while Europe (excluding Germany) only accounted for 5% of revenue. Equipment revenue in Germany was said to be around 17% of the total in 2015.
Around 52% of revenue came from solar cell related orders, while thin-film accounted for around 21% and module assembly equipment accounted for 14% of sales in 2015.
The order backlog lead times in the third quarter of 2015 was said to average 6.1 months.
"The order situation was very positive in the fourth quarter, 2015. We see in the coming months continued positive development of incoming orders and sales. Manufacturers are investing in high efficiency – production technologies as PERC, PERT and similar. Many existing systems can be upgraded with these technologies," added Dr. Jutta Trube, Director of VDMA Photovoltaic Equipment.
PV Tech as recently highlighted an increased intensity of PV manufacturing capacity expansion plans that gained significant momentum in the fourth quarter of 2015 and has continued through the first quarter of 2016.
A key trend has also been the scale of solar cell and integrated solar cell and module plant announcements that are keeping in balance with dedicated module assembly expansions. High-efficiency multicrystalline PERC and monocrystalline heterojunction capacity additions dominate cell expansions.
However, VDMA also acknowledged that the continued centralisation of PV production across polysilicon, wafer, cell and module in Asia had resulted in tougher competitive conditions with Asia-based equipment suppliers.
PV Tech has highlighted previously that module assembly equipment suppliers such as Horad secured over 5GW of orders in 2015, while Asia-based front-end cell equipment suppliers such as Archers Systems have secured key orders for the 1GW SolarCity/Silevo plant in the US.