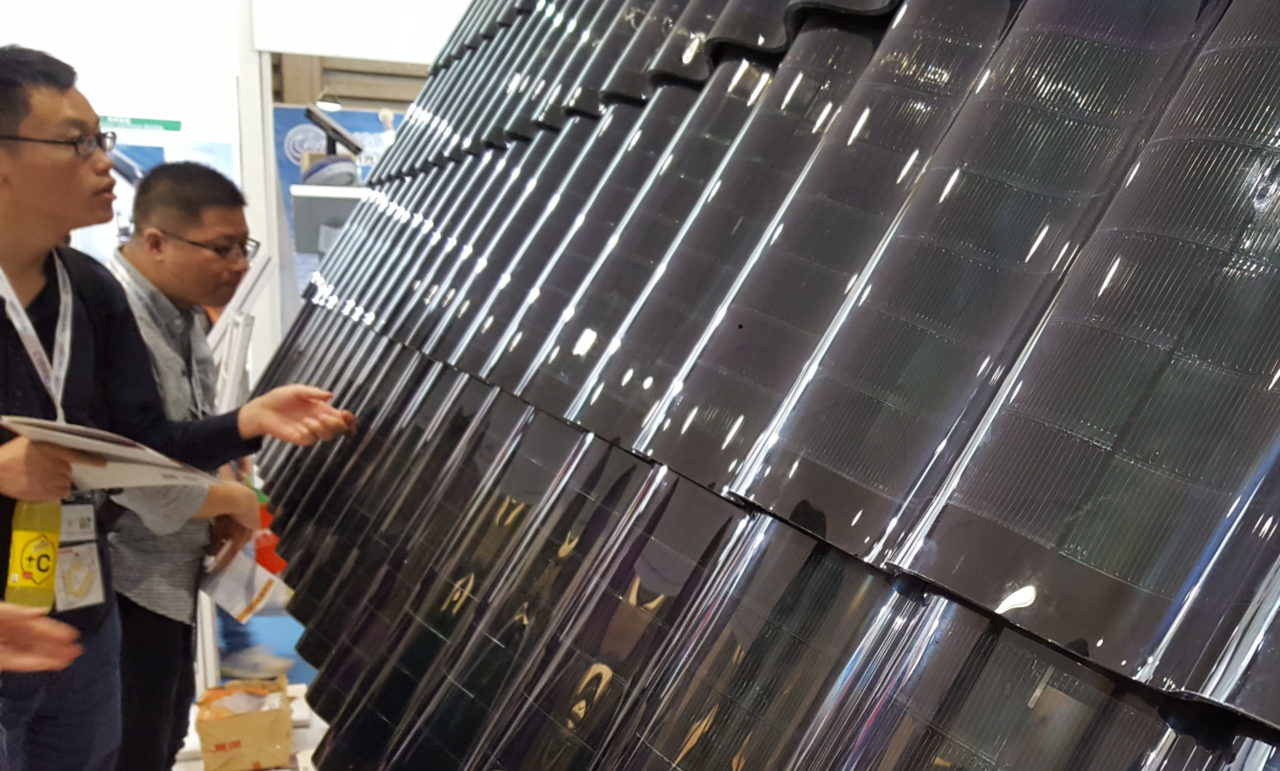 China headquartered PV thin-film equipment and module producer Hanergy Thin Film Power Group (Hanergy TF) has created a completely new business model in 2017 that provides new industrial parks a selection from a portfolio of a-Si, CIGS, GaAs and c-Si heterojunction (HJ) turnkey production lines to provide local governments access to solar technology and attract other hi-tech companies to new industrial parks.
Hanergy TF noted in releasing its 2017 annual financial report that its new business, dubbed 'Industrial Parks Projects' that a company subsidiary, Hanergy Mobile Energy Holdings Co., Ltd., took a 20% stake in local governments planned industrial parks, which were also owned by the local government and various third party investors.
The shareholders of the industrial park project become the ultimate purchaser of Hanegy TF equipment and technology as the Hanergy subsidiary limits its shareholding below the 30% equity interest rules when Hanergy would be deemed an associate of a connected party.
The local governments then have solar manufacturing plants that can promote and deploy solar systems using the local plant from a priority perspective for distributed photovoltaic power generation and agricultural facilities, urban lights, public buses, electric vehicles, highways, and government funded poverty alleviation and other similar local projects.
This results in the local government being able to generate revenue from product sales from its majority owned local production plants, via local content rules for such projects granted by the local government.
'Industrial Parks Projects'
The novel business model would seem to have already captured a number of clients. Hanergy TF said that by the end of 2017, three newly formed industrial park project companies in Mianyang Sichuan, Datong Shanxi and Zibo Shandong had purchased thin-film production lines from the company valued at approximately RMB 11.3 billion (US$1.79 billion).
Hanergy TF said that it also expected to sign further contracts under the Industrial Parks Projects business model.
Industrial Park Project in Mianyang Sichuan
The first industrial park project was said to have been created on 18 May 2017 with the Mianyang Sichuan local government, which signed an agreement to invest in the construction and installation of both a CIGS module and GaAs thin-film solar cell production lines, valued at RMB 6.6 billion (US$1.05 billion).
The contract is for the establishment of a 'thin film solar mobile energy industrial park' that in the first phase of a four phase plan includes a CIGS thin-film production plant with a nameplate capacity of 600MW. The CIGS technology comes from Hanergy TF's subsidiary GSE.

A 20MW flexible GaAs thin-film solar cell module line will also be supplied, and assumed to be using the technology from its subsidiary, Alta Devices.
Hanergy noted that it had received RMB1.2 billion (US$190.7 million from the project company, representing more than 40% of the total contract amount.
Industrial Park Project in Datong
The second contract was said to have been signed in July 2017 with the Datong Government of Shanxi Province and state-owned Datong Coal Mine Group Co.
The industrial park project plan was said to be comprised of three phases, which included the construction of a 250MW CIGS thin-film module facility as well as a 50MW flexible CIGS thin-film cell production line.

Phase 2 would see the addition of a 300MW flexible CIGS thin-film cell production line and the construction of a 20MW high-performance GaAs thin film cell production line. Phase 1 of the project which was said to be under construction required a total investment amount of RMB 2.272 billion (US$361 million).
For the construction of the Datong Mobile Energy Industrial Park, a project company known as Datong Dachang Mobile Energy Co., Ltd with Hanergy's subsidiary, Hanergy Mobile Energy Holdings Co., Ltd was created that would require a total amount of RMB 7 billion (US$1.11 billion) to invest in the solar manufacturing plans.
Hanergy also noted that it had already delivered part of the production equipment and the first 50MW packaging production line for the flexible thin-film solar cells at end of December, 2017 and received a payment of RMB 891.5 million (US$141.7 million).
Industrial Park Project in Zibo Shandong
The third contact is more complex as it would seem Hanergy Holdings, the parent of Hanergy TF had agreed to re-purpose a previous 3GW CIGS thin-film plant contracted between subsidiaries and the Zibo People's Government of Shandong Province, going back to December 2014.
In October 2017 a Hanergy TF subsidiary (Hanergy Solar Photovoltaic Technology) transferred a 57.52% equity interest in the project to state-owned Assets Management Company Limited of Zibo High-tech Industry Development Zone and Hanergy's industrial park subsidiary.
Zibo High-tech is expected to own a 33.33% equity interest and Huafengyuan Investment (Beijing) a 50% equity interest and be responsible for the operation of the industrial park project, once the transfer is completed.
The original contract being re-purposed includes equipment for two production lines of 450MW nameplate capacity using Hanergy TF CIGS thin-film technology from subsidiaries, Solibro and MiaSolé. Hanergy TF said that approximately 73% and 72% of the project for the MiaSolé production lines contract and Solibro production lines had been completed under that original contract.
The transfer of the 57.52% equity interest in the project was said to have a value of HK$2.37 billion (US$302.5 million). Hanergy TF said the deal contributed HK$2,464 million to the Group in 2017; and HK$1,062 million (US$135.3 million) was recorded as income from a connected transaction as well as HK$1,402 million (US$178.6 million) contributed to revenue from 31 October 2017 to 31 December 2017, being recorded as sales revenue from a third party.
In total the three industrial park thin-film contracts total 1,840MW (Excluding the 2010, 3GW Zibo Shangdong contract).
Heterojunction (HJ) solar cell lines
Unrelated to the industrial park business model, Hanergy TF also highlighted a contract signed in October 2017 with Huafengyuan (Chengdu) New Energy Technology Co.,Ltd., for the purchase of 600MW of nameplate capacity of automated and integrated 'High Efficiency Silicon heterojunction (SHJ) solar cell' production lines and technology transfer, valued at RMB 1,39 billion (US$222.5 million) and RMB 175.9 million (US$27.9 million), respectively.
Hanergy TF noted that it had delivered the equipment for the first 120MW production line during 2017, with an advance from the customer of US$4.05 million.
Finally, Hanergy TF said that it had entered into a contract with Jingzhou Shunbai Solar Power Company Limited for 300MW of unspecified thin-film module production equipment that was specifically for the agricultural greenhouse market. The company said the contract was worth around US$213 million and that around 82% of project had been completed in 2017.
Hanergy TF therefore secured a total of 2,140MW of thin-film orders and a 600MW silicon HJ order. Total equipment orders outlined in its annual reported reached 2,740MW.
Manufacturing segment revenue of Hanergy TF from external customers was HK$3,028 billion (US$385.8 million) in 2017. Total revenue was HK$6.14 billion (US$783.3 million) in 2017 and a gross profit of approximately US$340.8 million.