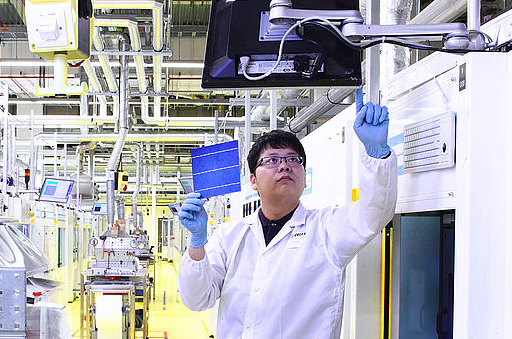 'Silicon Module Super League' (SMSL) member Hanwha Q CELLS is allocating only US$50 million to capital expenditures in 2017, indicating there would be no new in-house capacity expansions in 2017.
Hanwha Q CELLS noted in reporting fourth quarter and full-year 2016 financial results that its capital expenditures in 2017 would be around US$50 million, which would include manufacturing technology upgrades and certain unspecified R&D related expenditures.
With in-house annualized production capacities of 1,550MW for ingot capacity, 950MW of wafer capacity in China and 4,150MW of cell and module capacity (2.4GW in China and 1.75GW in Malaysia) at the end of 2016, capital expenditures of US$50 million would be required primarily for facility and equipment maintenance.
In contrast, Hanwha Q CELLS allocated US$23.0 million in the third quarter of 2016 to capital expenditures and US$137.7 million in total capital expenditures in 2016. The spending amounted to small incremental capacity expansions and upgrades to P-type multi-PERC (Passivated Emitter Rear Contact) cells. All of the 1.75GW at the Malaysia planted had been converted to PERC by the end of 2016.
However, Hanwha Q CELLS does have access to solar cell and module supply of up to 1,550MW from Hanwha Q CELLS Korea Corporation, an affiliate of the company, which has also upgraded around 1GW to P-type multi-PERC and around 500MW of cell capacity to P-type mono PERC.
Due to the 2016 P-type multi-PERC cell upgrades and inclusion/migration of some capacity to P-type mono-PERC, Hanwha Q CELLS said that cell and module capacity expansions by the end of 2017 were mainly from these efficiency improvements.
The company reported that the efficiency improvements would lead to total in-house solar cell and module assembly capacity of 4,600MW by year end, compared to 4,150MW reached at the end of 2016.
In-house ingot capacity would reach 1,650MW and in-house wafer capacity would reach 1,100MW by the end of 2017.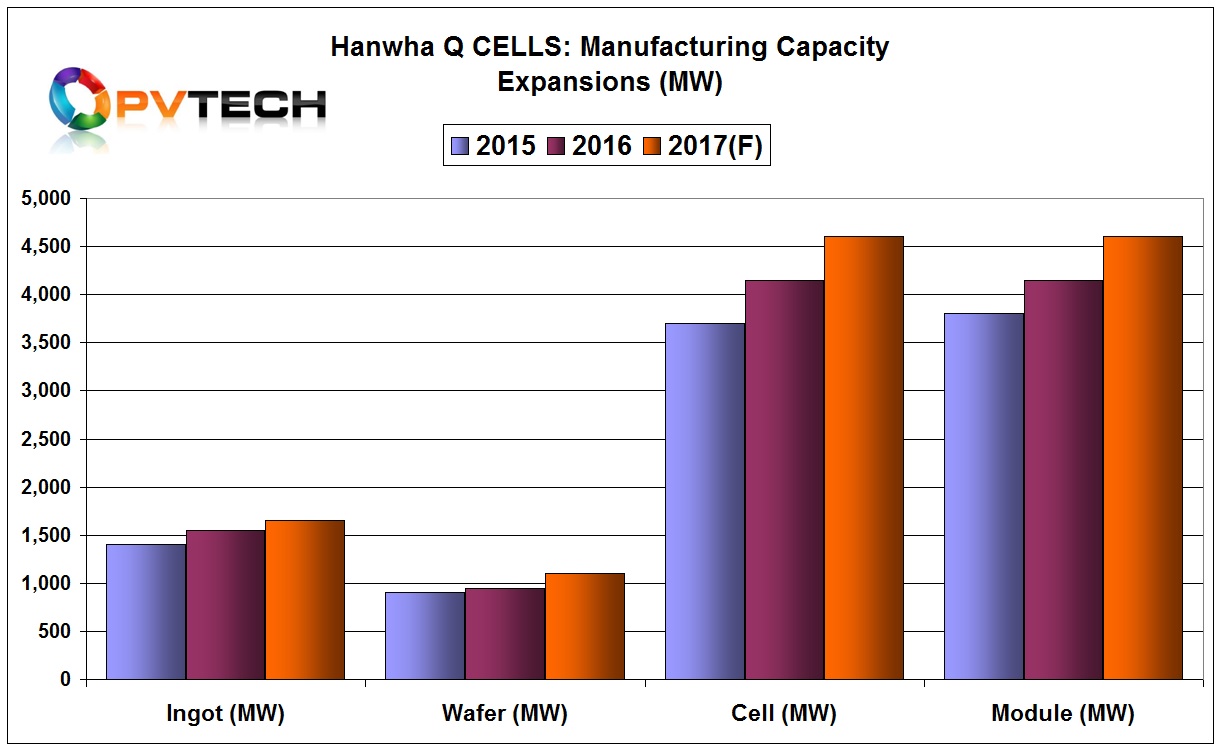 Hanwha Q CELLS said that it expected to achieve 2017 total module shipments in the range of 5,500MW to 5,700MW. This would keep in-house cell and module production in Malaysia and China at full utilisation rates with its affiliated company providing from around 900MW to 1,100MW of cell and module requirements to meet shipment guidance.
The company reported total revenue-recognized module shipments in 2016 of 4,583MW, an increase of 55.0% from 2,956MW shipped for the full year 2015.
Therefore, Hanwha Q CELLS is only expecting around 16% shipment growth in 2017 and would seem to have adequate capacity in place for expected demand levels.
Although the strategy means very low capital expenditures this year and lowest possible in-house manufacturing costs due to the high utilisation rates, key SMSL rivals such as JinkoSolar, Canadian Solar and JA Solar are all adding more capacity to meet module shipment guidance levels set for 2017.
JinkoSolar has guided module shipments for 2017 to be in the range of 8.5GW to 9.0GW, while Canadian Solar has guided shipments of 6.5GW to 7.0GW. With respect to JA Solar, module shipments were expected to be in the range of 6GW to 6.5GW.
Having lost the battle on SMSL shipment rankings with its nearest rival JA Solar, in 2016, Hanwha Q Cells has dropped one ranking position to fifth.
However, GCL and LONGi both some of fastest growing PV manufacturers in the last two years are closing in on Hanwha Q Cells guided module shipments in 2017.