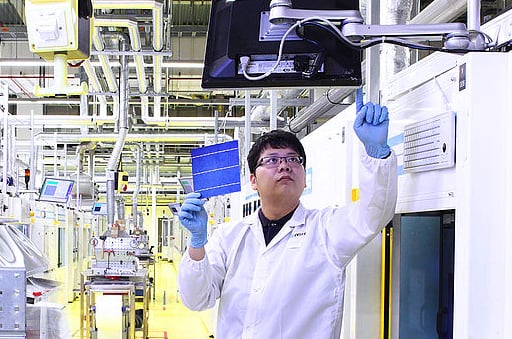 New analysis by the in-house market research team at PV-Tech's parent company Solar Media Ltd., can exclusively reveal that Hanwha Q-CELLS was the number 1 solar PV cell manufacturer in 2016, based on megawatts of cells produced in-house across the year.
The new findings are included in the January 2017 release of our PV Manufacturing & Technology Quarterly report.
This article provides the supporting methodology and data behind the rankings that confirm Hanwha Q-CELLS at number 1, but also seeks to ask: how did this happen, and why? And what does it mean going into 2017?
These are seen to provide fascinating insights to how solar cell production has changed in the past few years, and represent the perfect backdrop moving into the PV CellTech conference in Penang, Malaysia, 14-15 March 2017, where the topics will be explored in much greater detail.
The historical context, in short
It is almost impossible to write about Hanwha Q-CELLS having produced the most solar cells in 2016, without mention of the former Q-CELLS.
The original Q-CELLS was once the leading solar cell producer to the industry, back in the days of German leadership of the PV industry and when a pure-play solar cell producer could (briefly) carve out a viable business model. Steeped in R&D know-how and process excellence that was only matched by the industry's original stalwarts such as the Japanese trio of Sanyo, Sharp and Kyocera, Q-CELLS's multicrystalline cells were industry leading and used by many of the module producers that were exploiting attractive FiTs across Europe at that time.
To expand outside of midstream cell excellence, the company embarked on an unsuccessful horizontal expansion strategy by acquiring several thin-film companies, spanning different thin-film technologies. Hindsight clearly reveals this as an acquisition strategy that was unnecessary, but also was to play a part in the eventual bankruptcy of Q-CELLS.
As the pressures of European manufacturing were being challenged by the emergence of China and Taiwan as the low-cost regions for c-Si cells and modules, Q-CELLS moved ahead with Southeast Asia production activities in Malaysia.
Eventually, with crippling long-term polysilicon supply deals the game was over and the company filed for bankruptcy. However, Q-CELLS had reigned supreme as the clear number 1 cell producer to the industry, and in the process, had created a brand of quality that is still only matched by a few companies making GW levels of solar cells today.
Q-CELLS had also managed to create a brand premium at the module level using the 'intel-inside' approach to great effect, although the companies moves downstream came rather late in the day.
In the meantime, South Korean conglomerate Hanwha Chemical had entered the solar industry, alongside LG and Samsung, and as one of its first moves, had acquired the publically-listed Chinese midstream c-Si manufacturer Solarfun. A name change to Hanwha SolarOne was enacted, while Hanwha then acquired the distressed manufacturing activities of Q-CELLS in Germany and Malaysia.
For a few years, industry observers questioned Hanwha's strategy behind the concurrent midstream acquisition strategy, and how Hanwha was creating a market-competitive synergistic solar offering.
But in 2014, things became clearer when the Chinese operations of SolarOne got effectively consumed within an org chart that had Hanwha Q-CELLS as the principal operating and reporting unit serving the solar industry. At the same time, Hanwha ploughed huge capital investments into the Q-CELLS cell and module activities. The legacy German Q-CELLS R&D hub retained its important position, while the Malaysia manufacturing operations were expanded for both cell and module capacity. New cell and module production were also established at HQ location South Korea that has become a dedicated and state-of-the-art GW cell and module production site.
Enter 2016, and we have a reinvigorated and restructured cell manufacturing powerhouse across China, Malaysia and South Korea that is structured for maximum fab utilization and module sales profitability in markets that reduce the exposure to China, namely the US, Japan and Europe.
Crucially also, and a key part in the company becoming the number 1 cell producer in 2016, has been a more diligent approach to the use of in-house components, compared to the likes of JinkoSolar and Trina Solar that have been putting more priority on end-market module shipment volumes, regardless of where the selling product was made or by whom.
In-house cell utilization and PERC are key differentiators
Indeed, it is the final point above that ultimately makes Hanwha Q-CELLS the leading solar cell producer in 2016, despite the fact that by module shipments to the end-market, the company is likely to end up in fourth position for 2016.
Across the 'Silicon Module Super League' (SMSL) suppliers to the industry, only Hanwha Q-CELLS and JA Solar have business models that prioritize the use of in-house cells for modules supplied to the market. Indeed, for Hanwha Q-CELLS, this extends in a large part to modules shipped themselves, although the company has been relying upon low quantities of third-party shipped modules to support its growth strategy to the US market.
Another factor driving the use of in-house cells is coming from the strong volumes of p-multi PERC modules from Hanwha Q-CELLS. The company is dominant in this cell type, with most of the company's multi-GW module competitors still doing initial ramp-up of p-mono PERC. Interestingly, the switch from multi to mono PERC is something Hanwha Q-CELLS could do with ease, depending on when the market needs this change, and contingent on a supporting wafer supply route that is secure enough.
In-house cell utilization and PERC are key differentiators
Next week, we will present the full top-10 solar cell producers for 2016, based purely on estimated in-house cell production for 2016. There are some interesting entries in the list. In addition to Hanwha Q-CELLS, this top-10 list includes seven Chinese based companies and just one company headquartered in Taiwan.
Looking also at the agenda for PV-Tech's flagship conference, PV CellTech in Penang, 14-15 March 2017, CTOs and heads of R&D from more than two-thirds of the Top-20 cell producers to the industry in 2016 will be on stage presenting. Details on how to register to attend the event can be found here.
Finlay Colville joined Solar Media in June 2015 as head of the new Solar Intelligence activities. Until October 2014, he was vice president and head of solar at NPD Solarbuzz. Widely recognised as a leading authority on the solar PV industry.