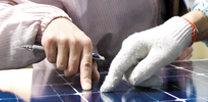 China-based PV manufacturer and PV project developer Hareon Solar Technology is raising around US$300 million in a private placement of new shares to expand PV manufacturing capacity and enter the LED market through an acquisition.
Trading in Hareon Solar's stock had been halted late last year, due to its initial announcement of plans to offer a private placement of newly issues shares. The company noted in several financial filings that the private placement of new shares was driven by difficulties is obtaining funds from other sources.
Hareon Solar noted that the PV manufacturing capacity expansion would come through the acquisition of Continuously Water Affairs (China), which has wafer and cell capacity of 335MW and module assembly operations of 500MW at a cost of around US$78 million.
The capacity additions would enable Hareon Solar to have module assembly nameplate capacity of 1.7GW, according to the company.
However, the transaction will also include Huajun Power and Baohuaxin Assets Management (Shenzhen), purchasing 629.6 million in newly issued Hareon Solar shares at a cost of around US$258 million, taking a 11.5% stake in the PV manufacturer.
The company also responded in a separate filing to United Photovoltaics Group taking Hareon Solar to the China International Economic and Trade Arbitration Commission over failure to supply a total of 930MW of PV power plants under a previous agreement.
Hareon Solar only informed investors that it had not yet received official legal proceedings from the Commission. The company has yet to publically explain its side of the claims, only noting that it did not believe it was obliged to return a deposit to United Photovoltaics.