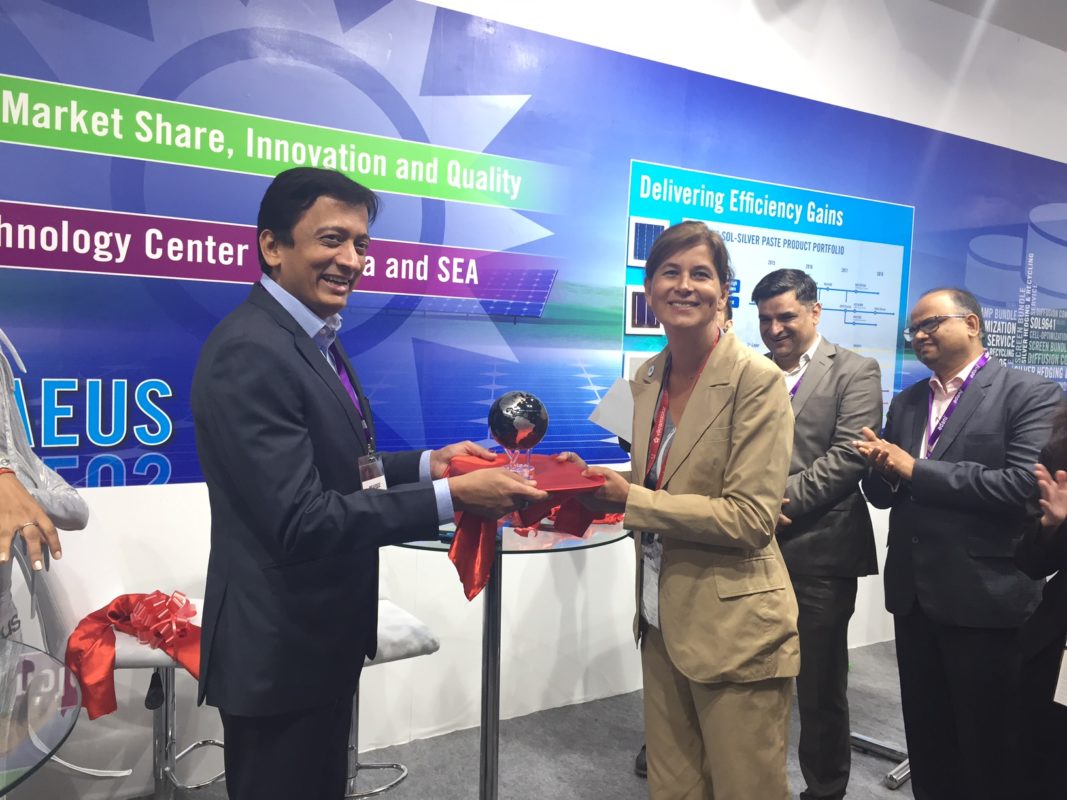 Major metallisation paste producer Heraeus Photovoltaics has opened a new office in Delhi and brought on more staff at its Engineering & Technology Center in Singapore to help focus on the Indian market.
Announcing the launch of a dedicated local sales team at the REI Expo in Delhi, Heraeus is also looking to boost its customization of silver pastes for Indian cell manufacturers as well as offering cell optimization consulting.
Ilke Verena Luck, Heraeus global head of new product development and technology, told PV Tech that the Singapore office helps Heraeus be close to its customers as the many markets in Southeast Asia emerge – adding: "We needed a strategic hub to serve these markets and these clients we have there. […] We always had production side in Sinagapore so this vicinity also helped us to decide on Singapore as a hub for serving clients in terms of application and technology."
Heraeus has a strong market share in India and works closely with Adani, one of the largest manufacturers in India.
Luck said: "We certainly want to help the Indian manufacturers growing and participating in their own market and this is why we opened the office on top of the application centre here in India."
In a release, Andreas Liebheit, president of Heraeus Photovoltaics, said: "Energy production from photovoltaic is already the cheapest way to produce electricity in the world and the prices will continue to decrease. Photovoltaics thus offers great opportunities for India to help solving the very strong growth in energy demand. This however requires a good and technologically leading partner for the Indian solar market."
Ministry of New and Renewable Energy (MNRE) secretary Anand Kumar opened the REI event by expressing strong support for the Indian manufacturing sector, which awaits a decision on the anti-dumping investigation.