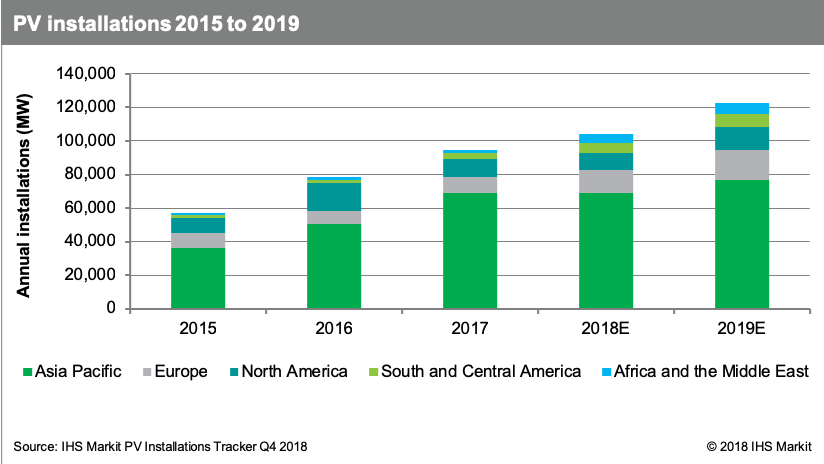 According to a recent report released by IHS Markit, annual global PV installations in 2019 are expected to rise by 18%, reaching a generation capacity of 123GW on the year.
Of that estimated total, two-thirds of the installed global PV generation capacity will come from sources outside of China, while several new or growing markets across the globe are expected to see major gains.
All together, Argentina, Egypt, South Africa, Spain and Vietnam represent 7% of total installations in 2019, along with 7GW of total demand growth. In total, annual PV installations are growing by more than 20% in 45 different country markets.
Within the US, PV installations are projected to grow by 28% year-on-year, with developers looking to make a major dent in their respective project pipelines before the December 2019 deadline for the 30% investment tax credit (ITC). A larger share of that pipeline will only be worked on through the module-shipment phase, which meets the safe harbor requirements that extend the 30% ITC if at least 5% of the components have been procured for the project.
IHS Markit expects limited capacity announcements across the supply chain, directly leading to higher average utilization rates across all nodes next year. While module prices dropped in the second half of 2018, existing strong demand outside of China, especially in markets such as Mexico, Vietnam, Spain, have cut into price erosion fears for shipments in the first half of 2019.