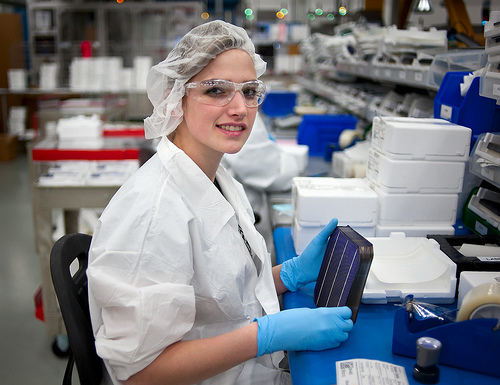 Solarworld-headed manufacturer group EU Prosun said rival Solar Alliance for Europe (SAFE) is "twisting or simply ignoring" data from an analyst report to make it appear to support the latter's position on the EU-China anti-dumping dispute.
SAFE, which has a membership of German companies including developer Baywa r.e and energy services provider MVV Energie, campaigns for what it calls "a solar market without trade barriers". The group campaigns for the lifting of trade tariffs on Chinese PV imports to Europe and recently commissioned analysis firm IHS to put together "The Price of Solar – Benchmarking PV Module Manufacturing Cost".
Conversely, opponent EU Prosun, which purports to represent the interests of EU manufacturers, continues to lobby for the continuation of tariffs, including the imposition of a €0.56 (US$0.64) per watt minimum import price (MIP).
The SAFE-IHS report says that driven by three factors; economies of scale, close supply chains and a high degree of standardisation, Chinese manufacturers' modules continue to be produced at lower costs than those from competing nations. While the rate of manufacturing cost reductions has been faster in non-Chinese industries since 2012, Chinese modules are still manufactured some 22% more cheaply.
"Since lower cost leads to cheaper prices, the European solar industry needs full access to Chinese products. This can easily stimulate demand and in the end, European manufacturers would benefit because in a growing market the demand for products "Made in Europe" also increases," SAFE's Dr Holger Krawinkel said.
EU Prosun claims Europe is catching up on cost drops
EU Prosun president Milan Nitschke – who is also Solarworld's vice president – told PV Tech this morning that the SAFE-commissioned study was "ignoring" Chinese state subsidisation of PV companies, what he called "state-financed overcapacities" and lower regulatory standards for the industry.
Nitschke sent PV Tech an English-language version of a statement from EU Prosun which criticised SAFE's conclusions. Although he said he welcomed the findings that European and US manufacturers appeared to be closing the gap with China, SAFE seemed to be cherry-picking certain points to make the conclusions support its own stance.
He said that the three drivers for cost reduction advantage cited above were all present in categories where "special conditions" exist. According to Nitschke and EU Prosun, it is "all the more remarkable… that non-Chinese companies could now catch up without these subsidies and reduce their costs".
"Chinese overcapacities are funded by the state. This is precisely the reason why the EU has imposed anti-dumping measures and why these need to continue."
'Not the full story': IHS responds
IHS, which said it maintains a neutral stance on the topic of import duties, wrote its report from a sample of so-called Tier One manufacturers in China, 'other Asia' (including Malaysia and Singapore) and the rest of the world – Europe, the USA and Japan. PV Tech spoke with the IHS report's lead author, Henning Wicht, this morning.
Wicht said that ultimately, it was undeniable that economies of scale drove the cost competitiveness of Chinese makers to a large degree and that it would be difficult for Europe to catch up without a similar effort. While it was true that Chinese PV manufacturing is state-supported, Wicht argued that nearly all governments seek to support their local industries with some form of incentives.
"The point which Mr Nitschke makes is his way of interpreting things – but he's neglecting that scale matters."
"There is still a big difference and the difference is related to scale. If you want to have European suppliers being at the same level they would have to run at a higher scale.
To Nitschke's point that non-Chinese manufacturers are "closing the gap", Wicht said that there was an element of interpretation on EU Prosun's part at play.
"The cost gap has declined between EU and China but there's a big drop in 2012-2013 from Japanese and Western suppliers, related in particular to a drop in costs from the Japanese."
Wicht said neither he nor IHS was prepared to back either side in the argument, but said it was good that with the report, EU Prosun and SAFE at least had an underlying data set to work from.
However, the analyst said the data in his team's report supported SAFE's conclusion that MIP is ultimately limiting competition.
"The cost declines made on the manufacturing side are not taken into account in the current stage through the MIP at a global level," he said.
At the beginning of March, European Commission senior official Marie Donnelly said that the minimum import price (MIP) policy has resulted in higher prices and no new jobs.