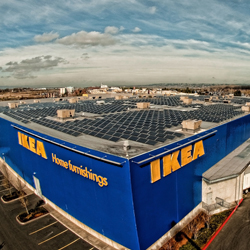 Ikea's parent company has pledged €200 million (US$220 million) towards reforestation and reaching an aim of 100% renewable operations and supply chains by 2030.
Half of the investment package will go towards efforts to ensure production operations are powered entirely by renewable energy.
Inter IKEA Group spokesperson Josefin Thorrell told PV Tech that the money will support suppliers and their factories as they transition to renewables. The firm will prioritise textiles, ceramics, glass and metal treatment operations, "areas where we have the greatest impact and where it is difficult to convert to renewable energy."
She added that promoting on-site renewable energy generation and new installations is central to the furniture giant reaching its 2030 renewable target.
"How large a share of the renewable energy will be generated on-site is too early to tell and depends on local pre-requisites, both country and industry. For example, all suppliers have the potential to install PV panels on-site, but it will on average only cover 15% of their electricity consumption," Thorrell wrote in an email. "The remaining part either needs to be solved by another solution – for example, bioenergy boilers – or procured by power purchase agreements (PPAs), where available."
The latter €100 million (US$110 million) will go towards removing and storing carbon through reforestation and responsible forest management. More than half of the flat-pack furniture behemoth's climate footprint is embedded in materials used for products and production, according to a company statement. Wood is one of the "main materials" that IKEA uses.
In September, Ikea's outlet owner Ingka Group bought a 49% stake in 403MW of utility-scale solar in Texas and Utah.
Founded in Sweden in 1943 by 17-year-old Ingvar Kamprad, Ikea has been the world's largest furniture retailer since 2008.