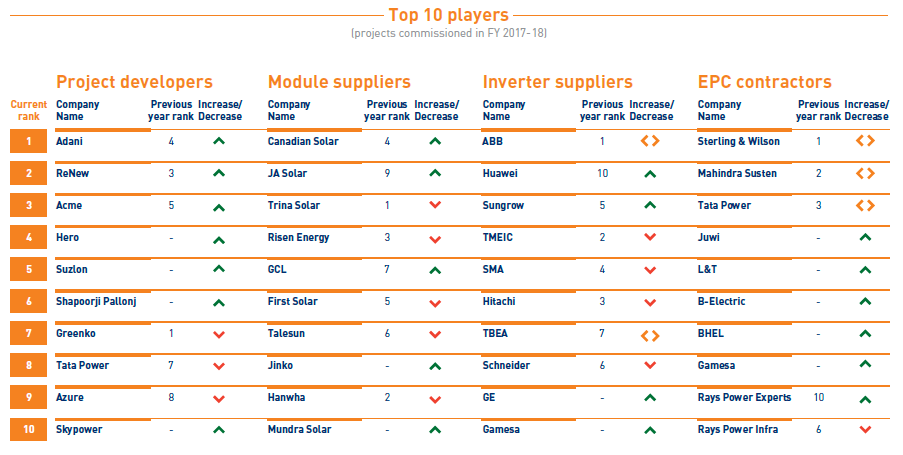 India installed more than 10GW of solar during the financial year 2017/18 for the first time ever, according to the latest Solar Map from consultancy firm Bridge to India.
Of the 10.4GW deployed, 9.1GW was in utility-scale capacity, a rise of 72% over the previous year and more than all other sources combined (coal 4.6GW, wind 1.7GW). Open access solar also grew dramatically by 1.7GW, up 275% year-on-year.
Total PV capacity had reached 24.4GW as of March this year.
Karnataka now leads the pack of states having had a blockbusting year with 4.1GW deployed. It is followed by Telangana, Rajasthan, Andhra Pradesh and Tamil Nadu.
Adani, ReNew and Acme were the top three developers with total installed capacity of 2.3GW during the year.
Canadian Solar (12.9% market share), JA Solar (11.4%) and Trina Solar (7.9%) were the top three module suppliers in the year. Tata Power Solar was the only Indian firm to make the top 10 and domestic firms had just 11.42% market share, which is pertinent given reports today that power minister R.K. Singh intends to make future bids for renewables have up to a 50% manufacturing component. The Ministry of New and Renewable Energy has also touted the idea of a 100GW tender to be linked with manufacturing in the future, although Bridge to India's weekly newsletter this week described the idea as "lacking in credibility".
The consultancy also suggested: "By announcing such radical schemes, MNRE may be trying to deflect attention from recent problems and shore up confidence in the sector."
According to the Solar Map, rooftop capacity reached 2.4GW as of March 2018 with just over 1GW estimated to have been installed in FY 2017-18.
Meanwhile, off-grid solar installations reached 691MW with capacity addition of 217MW in the year.
Vinay Rustagi, managing director, Bridge to India, said: "[The] Indian solar market has grown spectacularly over [the] last four years. But we are still at only 24.4GW, way short of the 100GW target. It is not going to be easy as activity is expected to slow down in the current year before picking up again in 2019-20. While falling prices and government support have helped in boosted demand, supply side factors like land and transmission still remain a concern."