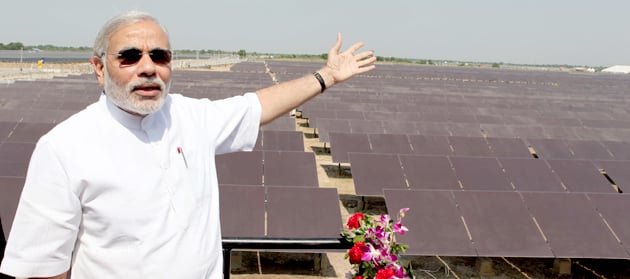 India's Cabinet Committee on Economic Affairs (CCEA) has given the go ahead for the second phase of India's mega-scale solar park plans to bring the total to 40GW up from 20GW.
The enhanced capacity was first touted back in June last year and was expected to take just two months for final approval, but it faced certain delays. However, finance minister Arun Jaitley did notify that the expansion would be approved in the latest India budget earlier this month.
The new 20GW will include a total of 50 solar parks each of 500MW capacity or more, which would actually suggest rather more than 20GW overall. However, smaller parks in the Himalayan and other hilly States, where land acquisition could be troublesome, will also be considered under the scheme.
The CCEA approval came following demand from various states to expand the popular solar park scheme. Foreign developers have shown particular interest in the tenders for solar within parks because all transmission and land acquisition challenges are handled by the central government, which will also be investing INR81 billion (US$1.2 billion) in this second phase.
The Indian government has cited the high potential for employment under the scheme in both solar and adjacent industries such as glass, metals and heavy industrial equipment. It also said the scheme makes use of uncultivable land.
Solar Energy Corporation India (SECI) will manage the scheme under the direction of the Ministry of New and renewable Energy (MNRE).
To date, 34 solar parks of aggregate capacity 20GW have been approved. They have been largely responsbile for consistently driving tariffs down across India although natural conditions and tender parameters do differ between the states.
A plan for 'Solar Zones' was also sanctioned last July, but this has yet to see any real movement.
VGF minimum changes
In other news, MNRE has also reduced the minimum project size eligible for viability gap funding (VGF) in special category states and union territories from 10MW to 5MW. The VGF is used in solar tenders run by SECI.
In New Delhi, PV Tech interviewed Ashish Khanna, executive director and CEO, Tata Power Solar, for a discussion on solar parks, which will be published in the coming days.