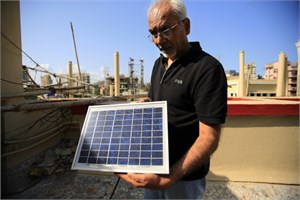 With a business as usual approach, India is set to reach just one third of its 40GW by 2022 rooftop solar target, according to a new report from the Solar Rooftop Policy Coalition, launched formally by energy minister Piyush Goyal.
India approved the 40GW rooftop target last year as part of its overall 100GW solar target. However, the report 'Unleashing Private investment in Rooftop Solar in India' claims that India is currently on a trajectory of reaching just 13.5GW of rooftop solar by 2022, however, "aggressive market support" could help India double its rooftop installation trajectory to 26GW by 2022.
The in-depth study came from the Solar Rooftop Policy Coalition, which consists of The Nand and Jeet Khemka Foundation, The UK Department for International Development, The Climate Group and The Shakti Sustainable Energy Foundation
The report outlines more than 50 recommendations in terms of policy to drive the rooftop market. However, the task is daunting given that the 40GW target requires 86% growth each year, which is faster than the growth in mobile phone connections during the 2000s.
Upendra tripathy secretary of the Ministry of New and Renewable Energy (MNRE) welcomed the new report claiming that it would help the MNRE formulate a strategy for meeting its ambitious targets.
The government was congratulated for helping more than 25 states adopt net metering policies, meanwhile net metered rooftop solar is now viable for commercial and industrial consumers in seven states without subsidy, with more reaching tariff parity each year as solar costs come down and tariffs rise globally.
The report also stated: "Rapid growth of rooftop solar has been reliant on government subsidies and subject to boom and bust as subsidies are introduced and withdrawn. We believe India has a unique opportunity to leapfrog to sustained market-led growth in a way which can set an example globally."
Krishan Dhawan, chief executive of the Shakti Sustainable Energy Foundation said: "Rooftop solar is an important component of India's ambitious plans to grow solar energy. For this initiative to succeed, it is vital that the right market and policy mechanisms are in place to facilitate investment and growth in this sector. We are very pleased to have supported this very timely publication."
PV Tech also recently spoke to Anand Nagarajan, founder of distributed independent power producer for solar rooftops Dexler Energy, to discuss the potential for rooftop in India, consumer attitudes and the intricacies of an unsubsidised industrial and commercial sector.
How India's rooftop sector will emerge from the booming utility-scale shadow is discussed in depth in the latest edition of PV Tech Power – (page 28-30).