Piyush Goyal launches weather and lowest cost power Portals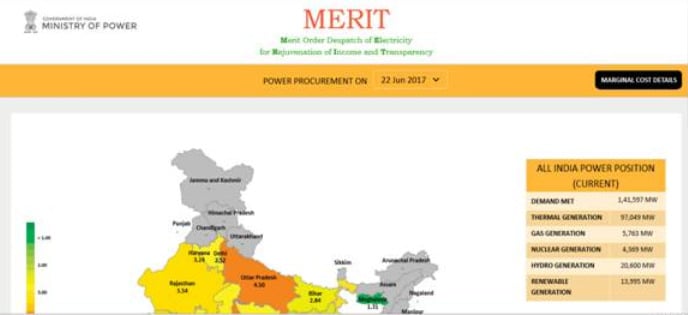 Energy minister Piyush Goyal has launched a new 'Weather Portal' for the power sector aiming to help distribution companies (Discoms) to manage power supply and plan infrastructure availability in response to extreme weather.
An Indian government release said heat waves, cold waves, wind storms and floods can dramatically affect production means or the electrical grid. Therefore the portal provides regional weather summaries, updated forecasts every three hours and projections for the next six days.
Goyal has also launched a second portal named 'MERIT' (Merit Order Despatch of Electricity for Rejuvenation of Income and Transparency). This will facilitate must-run status for hydro power and renewables as well as transparency in the clean energy market.Goyal has previoulsy condemned Discoms for failing to implement the priority status for renewable energy plants.
The government stated: "It will also promote competition for lower costs as information will be available to all stakeholders including generators and utilities for more efficient procurement. Since the information will be available to all consumers on continuous basis it will create pressure on utilities for continued efficiency."
Maharashtra 2GW of solar tenders
The Maharashtra State Power Generation Company (MAHAGENCO) has invited expressions of interest for the development of a 500MW solar park in Dondaicha, according to Mercom Capital Group.
MAHAGENCO has also invited expressions of interest for the 1.5GW solarisation of agricultural feeders in the state, with projects ranging from 2-50MW in size.
Tamil Nadu 'drastic' net metering cuts
The Tamil Nadu Generation and Distribution Corporation (TANGEDCO) has planned cuts to net-metering for solar consumers.
Mercom Capital Group reported that TANGEDCO included recent record low tariffs as one of the reasons for the proposed cuts. The state has a 3.5GW rooftop target for 2022, but has so far installed just 91MW.
A Mercom release stated: "The most important aspect of TANGEDCO's proposal is to reset the net-metering tariff by calculating a rate of 50% of the lowest solar tender during the previous financial year, or set the rate of 50% of the solar preferential tariff issued by the Tamil Nadu Electricity Regulatory Commission (TNERC) corresponding to the financial year, whichever is less."
Current rates are between INR6.63-7.23/kWh under various categories, but, if the plans are adopted, these could see a "drastic reduction" to between INR2.20-2.55/kWh.
In recent news, although Tamil Nadu's latest 1.5GW large-scale solar tender had seen significant oversubscription with 3,774.5MW of submissions, most of the key solar players in India did not participate.