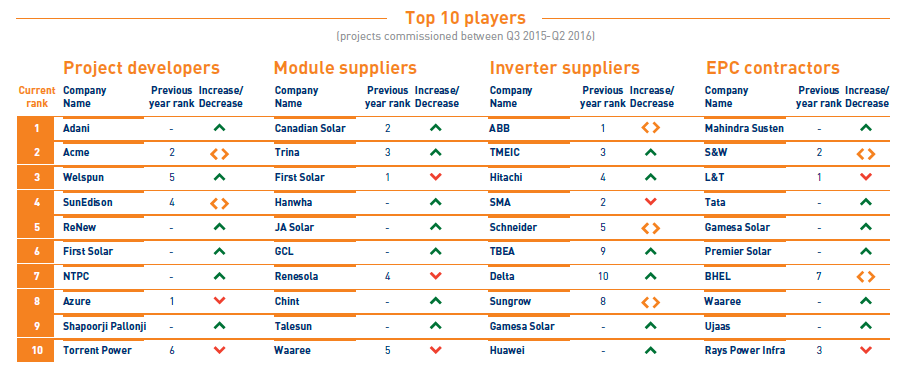 Indian corporates are taking a significant share of the domestic solar PV market with Indian conglomerate Adani taking top spot in terms of capacity additions in the last year, according to consultancy firm Bridge to India.
The 'India Solar Map 2016' shows that the only foreign developers to make the top 10 installers were US-based firm First Solar and now bankrupt SunEdison, whose Indian assets are set to be acquired by Hyderabad-based firm Greenko Group. Adani and ACME are expected to continue dominating with large pipelines of 1.3-1.4GW each.
The following table shows developers' installed capacity combined with pipelines: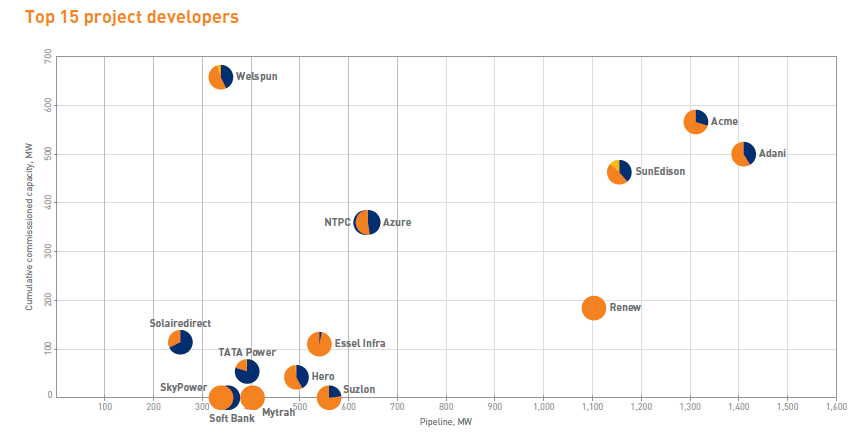 India's installed solar capacity grew by more than 80% from Q3 2015 to Q2 2016, with 3.6GW additions dominated by southern states with high irradiance levels.
For manufacturers, 8 out 10 lead module suppliers are from China compared to just 4 out of 10 in the previous year, with Canadian Solar, Trina Solar and First Solar topping the market this year.
ABB continues to dominate the supply of inverters and now commands a 35% market share, with Japanese firms TMEIC and Hitachi both able to gain a significant market share.
Bridge to India noted that most developers have in-house EPC capabilities resulting in 48% of the capacity commissioned in India being built by these in-house teams.
Vinay Rustagi, managing director, Bridge to India, said: "With a significant growth in market size, we have seen the player landscape evolving. Indian corporates are again asserting themselves in the project development space, new Chinese module supply entrants are competing with counterpart bellwethers like Trina Solar and Canadian Solar for market share and European and Japanese inverter suppliers successfully compete with Chinese companies by assembling in India."