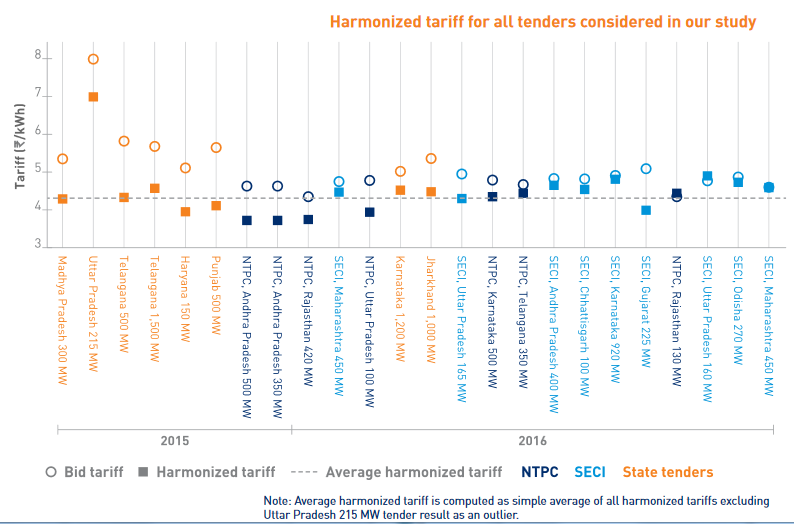 Indian solar developers have been more aggressive than their international counterparts in solar tenders and their risk pricing appears to have been inadequate, according to a new report from consultancy firm Bridge to India.
By analysing India's recent auction history on PPA-based, open category solar projects during the eighteen months up to the end of 2016, Bridge to India found that bidding in the sector has been relatively aggressive and even "lucky" with some of the assumptions made about rapid falls in module prices.
Indian developers were found to have a greater risk appetite than foreign firms when accounting for offtaker risks, project completion timelines, land acquisition and transmission hurdles.
For its modelling, Bridge to India harmonised bid results for 10.9GW of tenders to a 50MW PV project in the state of Andhra Pradesh commencing construction in January this year. Using this analysis, the simple average of all harmonized tariffs was INR4.31/kWh (US$0.063), excluding a 215MW tender in Uttar Pradesh as an outlier.
Jasmeet Khurana told PV Tech: "We have harmonised all kinds of external factors, because it is very difficult to compare a two-year-ago tender […] to a tariff of today; the module prices have fallen; the EPC prices have fallen; the offtaker might have changed. We have normalised for all these things to come to a comparison of which tenders were more competitive than the others."
Bridge to India stressed that, contrary to general perception of the market, harmonised solar tariffs have not actually trended downward once these additional factors such as changes in project costs are accounted for (see graph above). Instead, harmonized tariffs have oscillated around the average mark with no significant trend over time.
Perhaps the most important takeaway from these results was a calculation that the average harmonised tariffs gives an equity IRR of just 14.2%, which is significantly below the benchmark expectation of 18%.
This led Bridge to India to conclude that bidding has indeed been aggressive, resulting in developers "focusing relentlessly" on optimization of technical and financial project parameters in a manner that can push up IRR by 200-300 basis points. Developers are also making speculative assumptions about falling equipment prices, land sale values and debt refinancing among other factors.
The report stated: "Low equity IRRs suggest that the Indian developers, in particular, are not pricing risks fully and too much faith is being placed on an optimistic future scenario. The sector has been very lucky with rapid falls in solar module prices easing most of the financial and execution challenges. Any dislocation in module sourcing or even a price stabilization will spell trouble for winning bidders."
"We are aware of several instances of developers making further aggressive assumptions on future land sale values, debt refinancing, salvage value etc. and not building sufficient risk buffers. It is clear that project risks are not being priced fully and base cases are being modelled optimistically."
The consultancy cited grid curtailment as a particular area where Indian developers are being too optimistic about the future risks it poses.
It also warned against going down the same troubled road of other Indian sectors, such as thermal power and roads where historically many projects have either become unviable or ended in financial distress.
PV Tech recently caught up with Manoj Kumar Upadhyay, the founder, chairman and managing director of Indian developer ACME Group, who said that developers had not been aggressive and had taken factors such as the improved financial environment into account. Just a few weeks later ACME won 250MW with record-breaking low tariffs at Rewa.